myAWAI
Sign In
What is myAWAI? | © 2022 American Writers & Artists Institute
Brought to you by AWAI …




This Week from AWAI …
Companies Looking for Writers with THIS Writing Skill 👇
9 out of 10 people who visit a website click away without doing anything…
And worse yet, they won't come back!
Which is why providing a great user experience — also known as "UX" — is a top focus for companies these days…
And why many companies are prioritizing hiring copywriters trained in writing effective UX copy (and paying them a whole lot more!).
Fortunately, you're already 90% of the way there …
Check This Out
Now Accepting
New Writers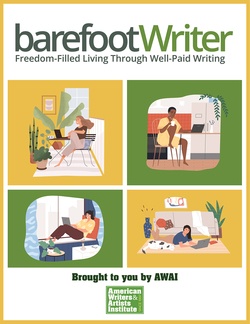 If you want …
high-paying gigs,
predictable writing income,
greater flexibility …
AND the satisfaction that comes with LOVING what you do for a living …
Then getting accepted into our influential club of Barefoot Writers can set you up for everything you're looking for in a writing career.
NOTE: Your acceptance window will be closing soon!
Apply Now