myAWAI
Sign In
What is myAWAI? | © 2020 American Writers & Artists Institute
Brought to you by AWAI …




This Week from AWAI …
Up to 90% Off During AWAI's Holiday Sale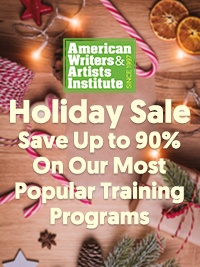 During our Holiday Sale, you'll find almost every resource in our catalog on sale for up to 90% off!
So whatever your next step is …
Whether you need help landing clients … want to learn to write a new type of project …
Or you're ready to take your writing business to the next level … we've got you covered.
Claim Your Savings Now!
FINAL HOURS:
Get a Year of Barefoot Writer Magazine for Just $11!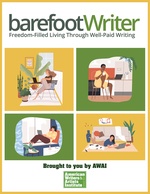 Shoes or no shoes, today? As a Barefoot Writer, it's your choice! Place yourself among the ranks of our best-paid writers with a full year's subscription to Barefoot Writer Magazine …
Each issue is packed with secrets, interviews, and stories from writers who are making the most of the flexibility, independence, and freedom that comes with getting paid to write. Now it's your turn!
This is your last chance to learn everything they know for a full year (with 12 issues — PLUS two immediate bonus issues) … for just $11!
Subscribe and Save BIG Here!
The BIGGER, BETTER, FASTER Way to a Pro Writing Career!
Ready to start writing for money in days, not months?
The company that introduced an entire generation to copywriting 23 years ago — will ROCK THE WORLD in 2021 with an all-new Bigger, Better, FASTER method for mastering the writing businesses absolutely need today.
As an AWAI member, you don't have to wait …
Join us for our LIVE members-only event, Wednesday 12.09.20 at NOON Eastern Time …
Where you'll be THE VERY FIRST to preview this history-making, life-changing learning experience … and be entitled to special perks nobody else will get.
To sign up (it's free!) and to learn more…
Click here now.