You're all Set…
Your Registration Has Been Processed for AWAI's Free Online Learning Event with Email Expert Ben Settle:
"Five Steps to a 10-Minute Workday"
During this special event, you'll learn:
Why the "10-Minute Workday" strategy is ideal for copywriters like you…
Dozens of topics you can write about (and where to easily find hundreds more to choose from)…
Surefire ways to find your "starving crowd" of readers…
The easiest and fastest way to start and grow your list of avid buyers…
How to get paid "helping" your readers…
The best way to set up and structure your "10-Minute Email" business…
The only two "sales pages" you'll ever have to write…
The secret to writing powerful "action" emails… in 10 minutes or less…
How to "scale" your "10-Minute Workday" business — from five-figures… to six-figures… all the way to seven-figures!
And much, much more!
Webinar Materials
Bonus Report
Ben's "Fly on the Wall" Technique
Bonus Presentation
The Rogue's Gallery Secret for Writing Emails People Look Forward to Reading and Buying From
LIMITED-TIME SPECIAL OFFER
Order by January 31st and Save $1,350!
AWAI and Ben Settle have joined forces to show you step-by-step how to create an email business of your own…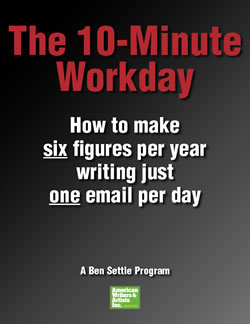 It's a program modeled after Ben's very successful email writing business. You'll learn everything you need to know…
Like how to choose among the thousands of "markets" you can write about…
How to create products you can sell…
Easy ways to build up the list of names you can email to each day…
The secret structure to writing highly effective "10-Minute Emails" that'll have your readers begging to buy your products…
You'll even learn how to structure your "10-Minute Workday" email business in a way that has money "flowing" to your bank account automatically…
Bottom line — Ben's 10-Minute Workday program opens up a world of opportunity for people who love to write — but don't want the hassle of having to find assignments or work with clients…