Marcella Allison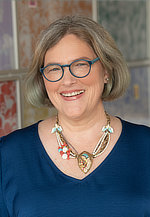 AWAI Member Since: 2004
What's your current occupation?
Copywriter
What's your former occupation?
Venture Capitalist, Art Gallery Business Manager, Organic Gardening Store Owner, Development Director
What was the first project you landed?
After attending the AWAI Boardroom retreat, a top copywriter in the industry called and asked me to help research and write a health package with him. Then, after attending the AWAI Copywriting Bootcamp in Delray Beach, a client called and asked if I would write an email promotion for a special stock report. From there, things just snowballed, and now I've got more work than I can handle.
What are your current projects?
Let's see … right now on my calendar I've got several financial projects, a health-care project, and a couple of projects for AWAI. I'm booked for the next 3 months!
What has been your proudest copywriting moment?
I still feel like I have so much to learn … but recently I sent a new headline and lead to a client, and he emailed me back and said that it was dramatically better than the last time I worked on a project with him just 9 months ago. And that made me feel great! I've also recently won two controls for The Motley Fool. And I have to say that I was thrilled when Katie Yeakle asked me to work on a project for AWAI. It was a great vote of confidence.
What's your favorite niche to write for?
It's a tie between finance and health.
What's your writing routine?
I get up early and get the kids off to school, then try to be at my desk by 7 a.m. I'm a morning person, so I try to follow Michael Masterson's advice and get my writing done early in the day before email and phone interruptions get in the way. In the afternoon I do my research, schedule client calls, and edit copy. I switch back and forth between different projects at different stages. I also spend time each day studying copywriting, looking at past controls, etc. And I've got a ritual I do every morning to get warmed up … I set the temperature to about 65 degrees, put on some background music (for me right now it's Tibetan Chants) … then I warm up by reading a really great control … one that is for a product similar to the current project I'm working on … then I start to write.
Please give us an example of how your life has changed since becoming a copywriter.
Now that I'm a full-time freelance copywriter, I no longer feel torn between my work and my family. This past winter when my father-in-law passed away suddenly, I was able to drop everything and take care of my husband and children. I didn't have to ask anyone's permission to take time off, and I wasn't limited to 3 days of family leave. (Before, an unexpected situation like that would have been incredibly stressful.)
I also take better care of myself physically. I never used to have time to take walks or to workout at the gym. Now I do both daily. And when my youngest son gets sick, like he did last week, I don't have to run around desperately trying to find a babysitter. He just hangs out at home with me while I write. And taking 3 vacations a year isn't bad either!
What success tip would you like to share with your fellow writers?
Don't let the learning curve intimidate you. Take it one step at a time. Learn something new every day. One day you'll wake up and suddenly realize all those tips, tricks, and techniques have become second nature. Remember, you don't have to be perfect … just start writing today. If you wait for perfection, you'll miss out on your life.
Also, don't let criticism shut you down. Look at every comment and every piece of feedback as someone helping you get one step closer to your goal.
When did you realize you were living the copywriter's life?
I have a friend who is a very successful editorial writer. He used to make fun of what I did and act as if he was "above" marketing copywriting. Then, a couple of months ago, he came to me and asked if I could please show him how he could become a copywriter, too! That's when I realized that I was living the copywriter's life. Of course, I sent him a copy of the Accelerated Program for Six-Figure Copywriting.