Peter Fogel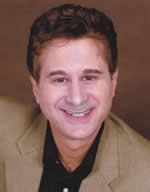 AWAI Member Since: 1999
What's your current occupation?
Copywriter/Speaker/Corporate Trainer
What's your former occupation?
Entertainer – comedy writer, improvisational actor.
What was the first project you landed?
Let's just say the official BIG letter promotion I wrote that propelled me further in my career was writing a sales letter for AWAI that went on to beat the current control (at the time).
What are your current projects?
The alternative health and financial markets(direct mail and web). self-help. I also have a radio show called The Boomer Humor Radio Show, found at www.boomerhumorradio.com. I also finished my 2nd book, "Reboot Your Career" www.rebootyourcareernow.com
What has been your proudest copywriting moment?
Well, there've been a few … but one stuck out in my mind when a client called me and said, "I don't know what happened … but all of a sudden orders are flooding in. Great work!"
What's your favorite niche to write for?
Alternative health, financial, self-help – or as I call it, self-indulgent help.
What's your writing routine?
Wake up, have some java, answer email and then "get busy" with the projects at hand. Always juggling one project – while getting notes on another.
Please give us an example of how your life has changed since becoming a copywriter.
I sort of have a dual career now (with multiple streams of income). If one stream gets "clogged," I can sleep at night knowing that my copywriting work is steady. I am now officially (and I have the business cards to prove it) a Corporate Trainer for National Seminar Training out of Kansas City where I give 2 day intensive Copywriting workshops for Web and Direct Mail around the country.
What success tip would you like to share with your fellow writers?
Never rest on your laurels. Realize that becoming a master copywriter is an ongoing process. Learn to write copy, then discover how to market yourself.
When did you realize you were living the copywriter's life?
When I realized that I could turn down work from clients that didn't meet my long-term goals (or who I knew would be a "problem child" in the process) – and not get an upset stomach and think, "God, I can't believe I just turned down work!"