Susan Nickerson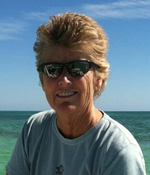 AWAI Member Since: 2004
What's your current occupation?
Copywriter
What's your former occupation?
Chiropractor and Physical Therapist
What was the first project you landed?
I submitted 2 spec assignments from Bootcamp in 2005 and got 2 clients as a result (in the alternative health field). One of them is still my primary client today.
What are your current projects?
I'm on retainer as a copywriter for a major publishing company, working primarily on video sales letters selling health newsletter subscriptions. I also write copy and VSLs for health supplements in a different division of the same company.
What has been your proudest copywriting moment?
Getting an unexpected $15,000 bonus!
What's your favorite niche to write for?
Alternative health, conventional health, and self-help.
What's your writing routine?
It took me awhile to realize that I needed to schedule writing time. (It is work, you know.) So now I start working after breakfast and do my most demanding, creative work before lunch. Later in the day I do little stuff, like correspondence or research. I like to maintain some flexibility, however. When the weather's perfect, I might need to get out on the water for a few hours…
Please give us an example of how your life has changed since becoming a copywriter.
There's no longer any need to drive many miles to go to a J-O-B. I enjoy sitting at my desk watching the water and sea birds (I live in a simple setting right on the bay in the beautiful Florida Keys now). No huge overhead like I had with my professional practice. Plus, I have the time and income to travel more.
What success tip would you like to share with your fellow writers?
Just keep writing, keep reading, and do spec assignments. Don't worry about the money at first – it will come if you're persistent.
When did you realize you were living the copywriter's life?
When I realized I could get up whenever I wanted and no longer had the need to dress up or even wear a watch.