March Issue: Irish luck vs. writing luck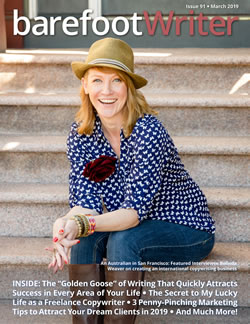 Which brings up a major topic of debate in the entrepreneurial and freelancer worlds: Does luck truly exist?
If you're a writer looking to hike your income, land new clients, or launch exciting endeavors, the idea of luck can be tantalizing …
But here's the good news: You can do all that, and more … without the luck of the Irish.
In fact, the phrase comes from the 19th century gold and silver rush. According to professor and author Edward T. O'Donnell, many of the most successful miners during that time were Irish or Irish American. Eventually, they built such a reputation for their mining fortunes it led to the expression luck of the Irish.
But the phrase also carried a hint of derision, because it basically said that luck, as opposed to brains, was responsible for Irish people's success.
I wouldn't be surprised if you face a similar sentiment at some point in your career. As you build your writing business, unrestricted by uniforms and punch cards and employee reviews, people are bound to tell you something along the lines of what a lucky son of a gun you are.
Maybe they'll be right.
Or maybe, at some point, they'll realize you did a brave thing. That you summoned your courage, defied norms, followed a dream, and took control of your life in a way few people will ever do.
If you read anything in our March issue of Barefoot Writer, make sure it's the essay on page 17, called "The Secret to My Lucky Life as a Freelance Copywriter."
That's where our Featured Interviewee, Australian copywriter Belinda Weaver, takes on the age-old argument of luck versus work.
And she makes some excellent points …
Is luck a matter of preparation meeting opportunity, as the philosopher Seneca said?
Is it about being in the right place at the right time?
Or does it all depend on where you were born, how you look, and the name you were given?
While you ponder this, delve into the other topics we curated for you this month. Lucky or not, they're sure to improve your writing and your focus:
Eliminate visual distractions with 6 easy "blindfold" tricks for faster writing
Instill this "pattern interrupt" throughout your day to inspire creativity and rejuvenation
3 penny-pinching marketing tips to attract your dream clients in 2019
The "golden goose" of writing that quickly attracts success in every area of your life
Click here now to read your March issue of Barefoot Writer.
When you're done reading the March issue, we'd like you think about becoming a member of our Barefoot Writer Club. Here's what you get if you do:
Access to 12-months of Barefoot Writer Magazine, plus unlimited access to all back issues (over 3,500 pages of content designed to help you write better, faster, and for more profit!).
Bonus resources that show you profitable opportunities in writing, like The $500 Email Secret and The Lazy Writer's Path to a Six-Figure Income.
Admittance to the Barefoot Writer Private Facebook Group. Log on to see other writers actively engaged in growing their businesses, sharing advice, and answering the burning questions that might be holding you back from the lifestyle and dream career you deserve.
Membership into Barefoot Writer Club is literally the quickest route I know to life as a paid writer: Join the Barefoot Writer's Club today.

The Barefoot Writer
Discover a lucrative style of writing that will give you as much freedom as you can have while earning a great income at the same time. Learn More »

Published: March 1, 2019