Six LinkedIn Strategies to Get More Copywriting Clients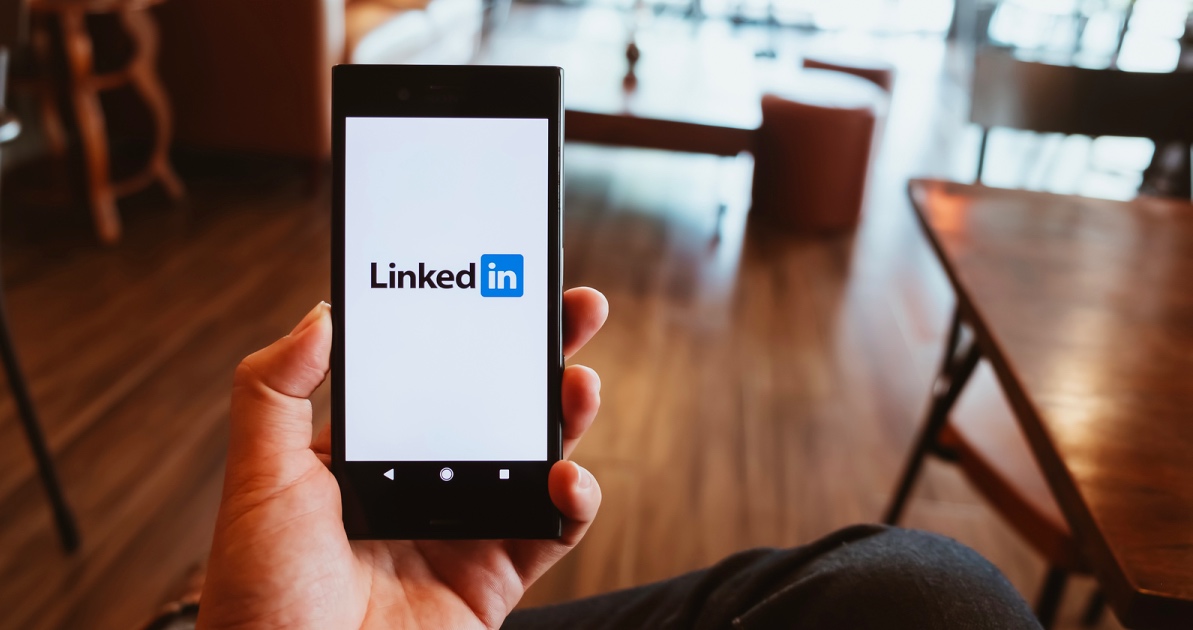 Are you looking for prospects that would be your ideal clients? Those could be companies with real marketing budgets (ready to spend money on copywriting) or magazines that actually pay writers.
You're not alone.
Just like other marketers, copywriters want to crack the code of finding and landing clients. So, where are the floodgates to leads?
Hint: It's where people have attractive headshots and talk about business — LinkedIn.
LinkedIn might not be a new platform for you, but have you been using it to its full potential?
The traditional advice for copywriters on LinkedIn is to 'get active' on the platform, and while that's good, it's not enough.
Here are six actions you can take on LinkedIn to find great prospects and get more B2B copywriting clients from the network.
#1. Develop an All-Star Profile … But, Don't Stop There
Fill in all sections on your LinkedIn profile — a professional profile picture, background photo, headline, summary, experience, education, skills, and solicit recommendations and get endorsements.
Having an all-star profile on LinkedIn is the first step.
Then, go the extra mile:
Write a few articles on LinkedIn and publish posts a few times a week.
Connect with industry experts. Use LinkedIn Search to find the top people in your industry and send them a personalized invite to connect.
Customize your LinkedIn URL with your name. Feel free to use keywords in your URL. I have updated my LinkedIn profile URL to include freelance tech writer — which is also my website address! (You SEO what I did there?)
Small steps add up to make your profile stand out and attract clients on LinkedIn.
#2. Post Consistently … With Breathers
I tried posting every day on LinkedIn, but that led to burnout.
And …
My best posts didn't get the time they should've — to reach people and gain the traction they deserved.
That's when I decided I'd post a few times a week — two or three — and allow my posts to breathe!
But, as you might have guessed, only putting out content is not all you should do. There's more.
With every post you put out, know that you're talking to a specific segment of people. Let's say you published a post about 'why companies should put a budget aside for copywriting.'
This post would not attract …
Companies that already know how critical copywriting can be for their business and have budgets set aside for that.
Companies who think their employees could double as copywriters — after all, they know about the business well enough.
That's why it makes sense to chalk out a client persona before you put out messages on LinkedIn.
In fact, that's true for every media platform out there.
Know who you're speaking to, what their pain points are, and you'll be able to connect with the right prospects.
#3. Actively Reach out to Prospects … With a Strategy
Comment on posts that relate to your industry. Engage with the people you want to work with.
LinkedIn is all about networking and communication.
Here's what you can do to reach out to people on LinkedIn with a strategy that leads to potential business:
Find your ideal clients through LinkedIn search. First, type in the name of one of your ideal companies to work with. Then, click 'Similar' in the list that appears on search. You now have a list of companies similar to the one you want to target.
Now, search for the go-to people in these companies. Change the tab to People in the search feature. Click on All Filters. You can add the Title here. That can be Editor or Marketing Manager, as the case may be.
Connect with people with a short, personalized invite. Ask if they work with freelance copywriters. Give their website a quick look and pitch your services with a personal note: 'Hi, I noticed you haven't published a white paper in six months. Can I help you with that?' OR 'I see you have a subscription list you can build by offering a free e-book for every sign-up. Would you like help with that?'
Use InMail to connect with kind-of-a-big-deal people who require you know their email address to invite them.
The catch is to strategize your outreach and gain maximum leverage out of it.
#4. Apply to LinkedIn Jobs … As a Freelancer
The LinkedIn jobs section is a great place for copywriters to find clients or contractual work. If a company is looking to fill a contractual or freelance position, it is a no-brainer to apply through LinkedIn or reach out via direct message.
However, if your ideal client is looking for a full-time copywriter, you can use, 'Hi, I see you are looking to hire a copywriter. Meanwhile, is there an urgent piece of content I can help you with?'
Often, companies go out looking for a copywriter when there is an urgent need.
You could find a good-paying client on the job board.
#5. Use 'Who Viewed Your Profile' and 'Search Appearances' … To Find Clients
These sections are present under Your Dashboard on your profile.
Here's how you can use this information to find clients:
People who have viewed your profile might be looking for a copywriter. Reach out to them with a, 'Hi, I noticed you viewed my profile. Was this because you were looking for a copywriter?'
It's not intrusive on their privacy, as you might think. It's professional and they might say, 'Yes!'
The Search Appearances section tells if your profile appeared in search results when someone looked up a relevant keyword. The section tells where your searchers work, what they do, and the keywords they used to find you.
Reach out to the marketing/HR executives of these companies with a personalized message.
LinkedIn says that to improve your future search appearances, you can update your profile to include relevant keywords — in your headline, summary, experiences, skills, and URL.
It's a great way to be proactive with your marketing.
#6. Build Your Referral Network on LinkedIn … And Get Leads
It's a smart move for copywriters to build a referral network.
Prospects who come via a referral source are much easier to land as clients
They already know you're good. They trust you because someone they trust recommended you.
Here's how to build a robust referral network:
Ask yourself, "Who else is working in your industry?" "Who has the same ideal-clients persona as you do?"
Potential referral sources could be website developers, graphic designers, video editors, magazine editors, or fellow copywriters who can outsource to you when they have more than they can handle.
Connect with these professionals.
Offer them a referral to kick-start your association. They may then feel obliged to do the same for you.
It is easier for either of you to refer the other's services when you don't work in the same space. Once you make a referral handshake, you can say to clients, "Hi, I have written this white paper for you. Would you want it designed by this great designer I know?"
Referral systems benefit all involved. And, that's why they are so awesome!
How Are You Using LinkedIn?
There are many ways to leverage the power of LinkedIn to build your business.
Experiment with the platform and do more of what works for your copywriting business!
Do you have a favorite strategy? Share it in the comments below.
This article, Six LinkedIn Strategies to Get More Copywriting Clients, was originally published by B2B Writing Success.

The AWAI Method™ for Becoming a Skilled, In-Demand Copywriter
The AWAI Method™ combines the most up-to-date strategies, insights, and teaching methods with the tried-and-true copywriting fundamentals so you can take on ANY project — not just sales letters. Learn More »

Published: June 27, 2019