How to Get Started as a Software
Industry Copywriter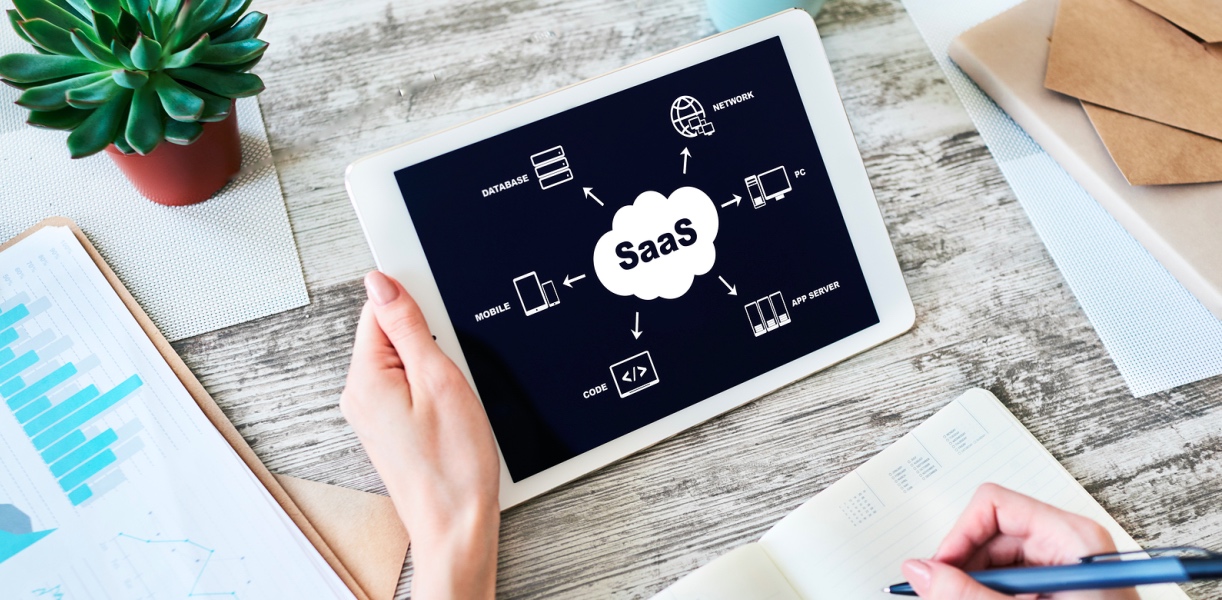 If you want to write for the software industry but are afraid you don't have the right skills … you are not alone.
I know many talented writers who didn't consider the software industry niche because they don't have an engineering degree or technology skills.
Now, they have plenty of clients! You can join them in this profitable niche by following three simple steps. I'll outline them in a moment, but first …
Why should you write for the software industry?
According to BusinessWire, the global enterprise software market is anticipated to exceed $575 billion by 2024.
Right now, there are over 100,000 software companies in the U.S. alone. The good news is that the vast majority are small and medium-size businesses — perfect for freelance copywriters.
Here's the best part …
All software companies need content that can explain their products and services and set them apart from their competitors.
Now, let's look some of the benefits of writing for software companies …
1. Unlimited content opportunities
Nearly every software product has multiple avatars, or ideal customers.
Here's an example: A call center agent, operations manager, and business analyst all need a helpdesk software product. In marketing terms, the product has three distinct avatars.
The marketing team needs content to explain the product for all three of these specialized target markets.
See … you just tripled your income from one client.
2. You will be the go-to writer
The high demand equals big opportunity. As old versions of software become obsolete, so does the content.
For instance, do you even remember how Microsoft Office looked back in the '90s? Microsoft Office transformed from a simple desktop application to today's popular Office 365 cloud-based software.
The point is …
New versions of the software require new content.
If your client likes your work for one version of their product, you'll likely be the writer for their next version of the product.
3. Make more money with less effort
In software programming, there is a principle called "polymorphism." It means "many shapes" in Greek.
You may be wondering … what does it have to do with copywriting?
Once you write on a software topic, you can use your research to create different types of content for multiple clients. The core principles of technology remain the same for any product.
Here's an example: If you write about a database product for Client A, you can use the same research and learning to write about another database product for Client B.
Challenges with content in a software business
Software companies have several challenges, and one of them is content. I know this by experience and have seen companies spend a ridiculous amount of money to create a sustainable content strategy.
Here are some of the challenges …
Lack of communication between product marketing and product engineering. This results in a lot of rework, especially in marketing content.
Most software companies have offshore content writing teams to keep the costs low, and the writers change frequently. The new writer needs ramp-up time to be productive. See how this slows the content creation process?
Budget allocation. Most companies do not have systems in place to measure the success of the content. So, the marketing teams often take the hit when a company needs to reduce their operational costs.
Here's the kicker:
If you can get creative with your offerings and address one or more challenges, you will get more work than you can handle.
For example, software companies need UX copywriting for their products as well as content for their marketing needs. If you can do that as well, they have more incentive to source both from the same person.
Three steps to start writing for software companies
Here's where the rubber meets the road. Combined with your important foundational training in B2B copywriting or content writing, you just need to follow these three simple steps, and you will be ready to write for the software industry in no time.
This process is repeatable; you can use the same steps to write for other software companies and products.
Step 1: Learn the basics of one technology
You must know the basics of one technology. Preferably, the technology that is trending. You can pick any technology.
Let's say you want to write for cloud computing products. You begin by learning the basics of cloud computing.
Simply google the keyword "cloud computing basics course," and you will find a variety of cloud computing courses.
That's it. Go through a course or two, and you will know enough about cloud computing in a couple of days to get started as a copywriter in the niche.
Step 2: Create content to prove your knowledge
Follow one of AWAI's 26 proven ways to land freelance writing jobs and create relevant content on cloud computing that fits your strategy to acquire a new client.
Remember … you're not going to attend an interview for a cloud computing job; you don't need to know everything about the technology. You can do any additional research you need to when you write the content.
Step 3: Find and engage with similar prospects
The common mistake young writers make is they jump into a different technology after the first project. I recommend sticking with the same technology and looking for another client in the same market.
Why?
You can use the previous work as part of your portfolio
You shorten the learning curve
You can write more in less time
And when you are ready to write for a different type of technology?
Simply repeat the same three steps, and you're ready for a new set of clients.
Now that you know the secret to writing for the software industry, which technology do you want to pick first?
This article, How to Get Started as a Software Industry Copywriter, was originally published by B2B Writing Success.

Crash Course in B2B Content
Dive into the lucrative world of B2B content writing. Expert Gordon Graham will show you the top 12 content types in high demand by B2B firms and how to complete each one like a pro. Learn More »

Published: April 18, 2019