July Issue: The Messy Truth
Behind Independence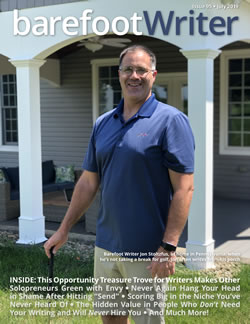 It's hard to resist a tie-in between the recent U.S. Independence Day celebrations and the independence we all seek as writers.
Consider the similarities …
Way back in 1776, American colonists wanted more say in how they lived their daily lives. They wanted control over their money.
And they didn't want major life decisions being dictated by a far-away king.
Here in 2019, we writers want similar life control. We don't want to bow to someone else's job expectations. We want to decide our own financial future.
The colonists got so fed up with their plight that they revolted against the king.
As writers, we rise up against the norm. We make it clear we're not willing to settle (thankfully, without having to forge a war).
As the story goes, the colonists' revolution kicked off beautifully, theatrically, in portrait-perfect style on July 4, 1776, when John Hancock and several dozen other white-haired men signed the Declaration of Independence, an event captured by John Trumbull's famous painting now on display in the rotunda of the U.S. Capitol.
Only … that's not what happened.
The vote for independence took place on July 1, 1776, followed by two days of arguing and revising the plan. The existing Congress adopted the Declaration of Independence on July 4, but another month went by before everyone was on board and gathered to sign the thing.
What happened in the meantime?
Details. The delegates from New York didn't get a thumbs-up to vote in favor till July 9. Then someone had to draft something legible on parchment paper. Even on the final signing date, some of the delegates were no-shows, so a few guys signed late, and two never signed at all.
So even though the movies and historical lore frame this move toward independence as elegant and seamless … that wasn't the case at all.
Which is really cool to hear, especially when you're in the thick of claiming your own independence.
The writer's life is steeped in romance — and why shouldn't it be? You absolutely can do enjoyable writing work and be paid top dollar for it while hanging in your bathrobe or sunning on a beach.
But that doesn't mean it won't be messy.
You're not going to quit your job on Monday and then on Tuesday welcome a slew of royalty-heavy assignments to your feng-shui-perfect office-with-a-view.
It takes a little time. You'll have questions. Now and then, you'll come to a fork in the road.
But … you'll get there. Faster and with greater ease than in most professions, you will find that point where the independence you dreamed of is your day-to-day experience.
I say this with unequivocal sincerity. It happened to me. It's happened to many writers I know.
And it will happen to you.
To get you through those early question-laden days, your July Barefoot Writer issue contains a long-sought interview with the renowned million-dollar copywriter Dan Kennedy.
And Dan makes clear the single most important thing you need to do if you want your writer's independence to materialize into tangible wealth and freedom.
In addition, you'll discover
an opportunity treasure trove for writers that makes all other solopreneurs green with envy,
the hidden value in people who don't need your writing and will never hire you,
how to never again hang your head in shame after hitting "send," and
the common mythology that can ruin your chances of success … and what to do to defeat it.
Your July issue of Barefoot Writer is waiting! Click here to read now.
This is a first for us: Read how two Barefoot Writers shared a "karmic coincidence" on their road to the writer's life. See page 28.
I'd also like to extend a special invitation today for you to join The Barefoot Writer Club.
You'll become part of a world where you can:
Quickly connect with hiring clients
Reach out to high-earning writers for support and advice
Get discounts on guides to the hottest writing opportunities
Access reports that teach you shortcuts to massive success as a freelance writer
And so much more!
In short, you'll be welcomed into a very special group of people who can show you what it takes to earn a healthy income as a writer, while enjoying the kind of lifestyle most people only dream about.
Take the quickest route to life as a paid writer: Discover The Barefoot Writer Club today.