Congress FINALLY Recognizes 15% of the Working Population

On Friday, March 27, Congress passed the Federal Coronavirus Aid, Relief, and Economic Security (CARES) Act.
The $2.2-trillion stimulus package was designed to quickly get people and employers hurt by the crisis much needed financial support.
And for the first time EVER — at least as far as I can remember — they actually included something that helps Main Street Americans more than their wealthy friends and corporate donors.
That's because the new law actually helps the 50 million-plus Americans currently part of the gig economy. Freelancers. Solopreneurs. Independent contractors. Whatever it is you choose to call yourself … you've got a chance for some help.
And while you can probably find this information all over the internet by now, I highly doubt you'll see it from a copywriter letting you know how to take advantage of these programs.
By now I'm guessing you've probably heard about the stimulus checks being sent directly to taxpayers within the next few weeks.
But you may not be familiar with the other provisions put in specifically to help "gig" workers and freelancers. Since I know there are plenty of workers — both full time and part time — struggling to make sense of this all, let's hit the most relevant pieces of the CARES Act for freelance copywriters.
Freelance Unemployment Insurance
Yep, you read that right. While freelancers usually aren't eligible for unemployment insurance (UI), the CARES Act fixes that to some degree.
Since UI is run by the states, how you apply and how much you can get will depend on where you live.
But broadly, the new Pandemic Unemployment Assistance (PUA) program can potentially help you recover an additional $600 per week in unemployment insurance for up to four months, in addition to whatever your state provides. Not everyone qualifies, but the CARES Act opens the door for many freelancers who didn't qualify for UI before, so it's worth looking into.
Again, there are a lot of details here based on where you live, so for more information I recommend you check out your state's Department of Labor website.
Here's a good overview of PUA from Syracuse University: Click here.
SBA Loans, Including Some That Don't Have to Be Paid Back!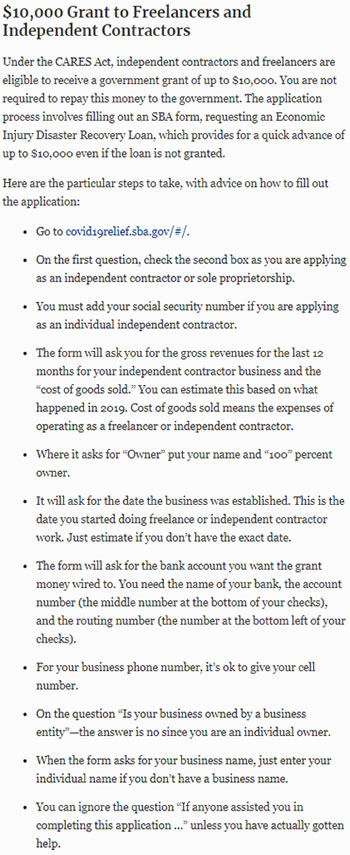 You can check out these
detailed step-by-step instructions
from Forbes.com by clicking on
this image.
Thanks to the CARES Act, small businesses and sole proprietors now have two new options for loans as well.
First up is the Economic Injury Disaster Loan (EIDL).
If you're a freelancer and all your clients just canceled your contracts, this definitely qualifies as a disaster. And for once, Congress agrees.
The application process is all online and easy, and you can now "self-certify" that you qualify without a lot of red tape.
Now, that doesn't mean you should take advantage of this and apply for a loan to put a new deck on your house. But if you've legitimately lost income since January 31, 2020 as a result of this crisis, you may be eligible for EIDL support.
The SBA even waives some other requirements … for example, you no longer have to get rejected by another bank first.
In addition, if some conditions are met, the first $10,000 can be granted as an emergency cash advance that doesn't have to be repaid. For example, if you've got business expenses that still must be made this month and next and your contracts have been canceled, you should qualify for this.
For those freelancers or small businesses looking solely to replace a regular paycheck, the SBA is also offering the Paycheck Protection Program Loan Guarantee.
This program looks at the average wages paid for the previous 12 months and allows you to take out a loan to cover those wages.
Loan rates are very reasonable, with a maximum rate of 4%. There's a 10-year repayment program and repayments can be deferred for 6 to 12 months.
And to be clear, this is open to both sole proprietors and those with employees …
So if you were on retainers with clients and show you made $5,000 per month over the last year as your income and now those retainers are gone … you can apply for this loan to cover your replacement income.
Once again, the SBA has relaxed many of its traditional requirements to make more people eligible for this loan and get business owners and freelancers the help they need.
In addition, if you meet certain criteria — mainly that you don't lay anyone off — you can even have some or all of the loan forgiven.
Now, I'm not a financial advisor, a lawyer, or a lending partner to anyone … loans aren't for everyone, and I can't tell you what's right for your situation …
But given the unusual circumstances we're all living through right now, it's nice to know there's a potential backstop to help. And again, if you spend it where it's supposed to go, the loan may magically turn into a grant. (Yeah! Free money!)
Here's a great article on Forbes, where I pulled this overview on these two loans.
And you can also visit the Small Business Administration's site at www.sba.gov/disaster.

The Professional Writers' Alliance
At last, a professional organization that caters to the needs of direct-response industry writers. Find out how membership can change the course of your career. Learn More »

Published: April 8, 2020