The Inspiration – and Practical Advice – You Need to Launch Your Writing Career Could Be in These Pages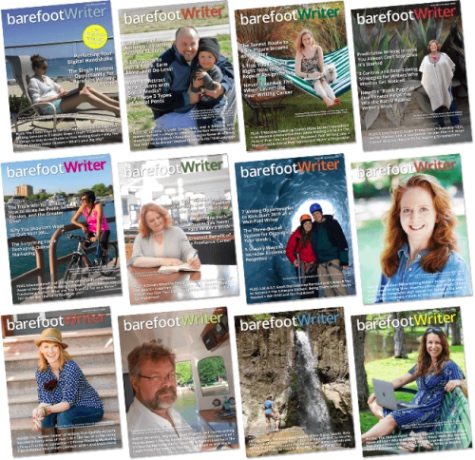 Ever read a magazine where you're carried away by a story … or fashion … or trend … But you also know everything you're looking at is rigged?
From airbrushed models to staged houses to added computer effects, it's rare these days to get the full story from anywhere.
Now with AWAI's Barefoot Writer magazine.
In its pages you'll meet real people enjoying real writing jobs. We share the stories of folks with ups and downs, who ultimately prevailed over hardships because writing gave them the flexibility and income they needed.
We share the actual "how-to" behind those stories of those folks, because anything they did is something you can learn to do, too. And the Barefoot Writer team is here too; real live people for you to reach out to with questions as you venture toward realizing your own writing dreams.
Subscribe today, reach out, and open this door to the real world of paid writing and lifestyle freedom.
When you do, you'll get an entire year of hot writing trends, insightful success stories, simple tips for breaking into the market as a writer, and big motivation coming to you each month.
In each monthly issue, we share who's finding success and exactly what they're doing to get there … latest research on what's getting people gigs … news on the latest writing industry trends I've found lately … and more
It's like hanging out with fellow writers. With the folks who've "made it" reaching back to help those who are just starting out.
Until midnight tonight, you can get an entire year of writing techniques, insider tips, leads on gigs, and more for just $11. You'll also get instant access to this free special report: 130 Amazing Perks and Freebies for Writers (and How to Get Them!)

The Professional Writers' Alliance
At last, a professional organization that caters to the needs of direct-response industry writers. Find out how membership can change the course of your career. Learn More »

Published: May 19, 2020