3 Powerful Ways You Can Put Chatbots to Work for Your Clients … And Make High Fees for Yourself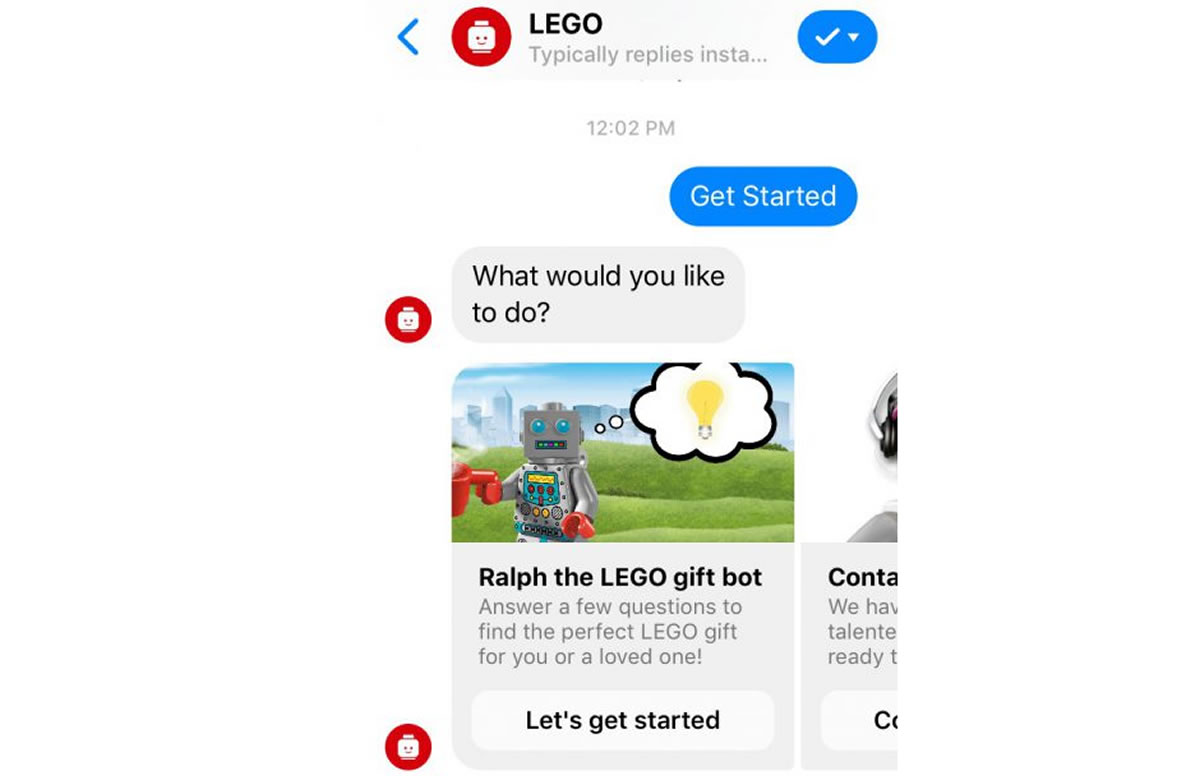 "New discoveries in science and their flow of new inventions will continue to create a thousand new frontiers for those who still would adventure." — Herbert Hoover
New inventions in marketing technology also present new frontiers for copywriters willing to adventure … For those willing to explore and master these new innovations.
Chatbots are one of the newest tech inventions that have created a lucrative new way for copywriters to serve their clients. Let me explain …
Have you ever been to a large party where wait staff mingle with trays to offer the guests drinks and snacks? Each waiter is an extension of the host of the party, because it's not logistically possible for the host to be everywhere at once serving all the guests at one time.
These waiters have been trained to unobtrusively take care of the guests' needs.
"Care for some bubbly? Please enjoy a flute from this tray."

"Prefer something non-alcoholic? Let's get you something from this other waiter."

"Would you like a chocolate-covered strawberry? Perhaps something savory instead?"
The waiters use scripted statements and respond accordingly, ready to enhance each guest's experience.
A chatbot does the same thing for a guest on your client's website, Facebook page, or other landing page. And for a lot less than it would cost to hire staff for the job.
Instead of a live person on the other end of a live chat pop-up window, the chatbot is a preprogrammed series of automated texts guided by a guest's responses. It's like reading a "choose your own adventure" book, but through a series of texts instead.
These automated texts all need to be written by someone.
By the bot builder? That's what is often happening now, but they aren't trained writers.
What if, instead, by a professional copywriter trained to write persuasive conversations between clients and their audience?
I may be biased, but I think that second option gives your client the best chance of chatbot success. Don't you?
A professional, trained chatbot copywriter can be a valuable asset to their clients. And you can be paid well as such. After all, you're SAVING your clients all the wages they would have had to pay live staff to provide this level of customer engagement.
There are three powerful ways you can put chatbots to work for your clients. Let's look at each of them …
1. Lead Generation
Let's say your client sells skincare products. They drive traffic to a blog post about taking care of your skin when you wear a face mask for four hours or longer each day. A chatbot could be designed to engage the reader in a conversation about their specific skincare needs.
For example, after a few preliminary engaging texts, the chatbot could ask if the reader's skin is dry, oily, or a combination of both. Based on the reader's answer, the chatbot could then offer something — perhaps a sample sent in the mail, a coupon for a product recommended for that reader's specific skin type, or some other lead magnet — that is specifically relevant to that individual person.
This type of lead generation is powerful for your client because it automatically segments the leads by their skin type. Your client has a better chance of conversion because they can make offers specifically targeted at individual concerns.
And it all happens automatically … with your help up front in writing the sequences of automated chatbot copy … so they can sit back and serve their new customers.
2. Direct Sales
That same skincare client of yours may want to craft a chatbot series that takes the reader to an e-commerce sales page to buy the recommended product for their specific skin type or skincare concern.
Imagine having little minions working 24/7/365 to sell the products behind-the-scenes, without any additional effort …
Little minions that don't have to be paid because they're simply bits of code programmed to interact with prospects and sell them things following the preset script.
That's what you offer your clients as their chatbot copywriter.
3. Loyalty Programs
Loyalty programs are all about customer retention and repeat sales. And this is another powerful way for you to help your clients use chatbots.
Using our skincare client example, what if they automated a follow-up chatbot sequence to ask how the purchased products are working? What if they programmed another follow-up sequence timed for when the customer should be running out of the product they bought?
This is the ultimate in customer service and staying top of mind. And you can help them set this all up by writing the chatbot copy that enhances customer loyalty, retention, and repeat sales.
What's in It for You, the Chatbot Copywriter?
When you master writing chatbot copy ("nano-writing"), you open a whole new frontier of opportunity for yourself. This is an additional project you can cross-sell to your existing clients. It's also an amazing way to get new clients.
And now's a great time to make a name for yourself as a chatbot copywriter. Chatbots have been around long enough for your clients to know about them (although there's every chance they haven't started using them yet!), and they've been around long enough to be proven effective.
At least, they're effective when the chatbot copy is well-written to guide the conversation to a conversion.
A chatbot simply doesn't work without good copy.
A trained chatbot copywriter provides the good copy that's often the missing piece of the equation. YOU could be that copywriter.
There's a huge and growing need for quality chatbot copy. Are you going to venture into the new frontier and meet the need?
The time is now.
Do you have any questions about becoming a chatbot copywriter? Let us know in the comments.

The AWAI Method™ for Becoming a Skilled, In-Demand Copywriter
The AWAI Method™ combines the most up-to-date strategies, insights, and teaching methods with the tried-and-true copywriting fundamentals so you can take on ANY project — not just sales letters. Learn More »

Published: June 23, 2020