10 Bloggers Who Could Turn Your World Upside Down … in a Good Way!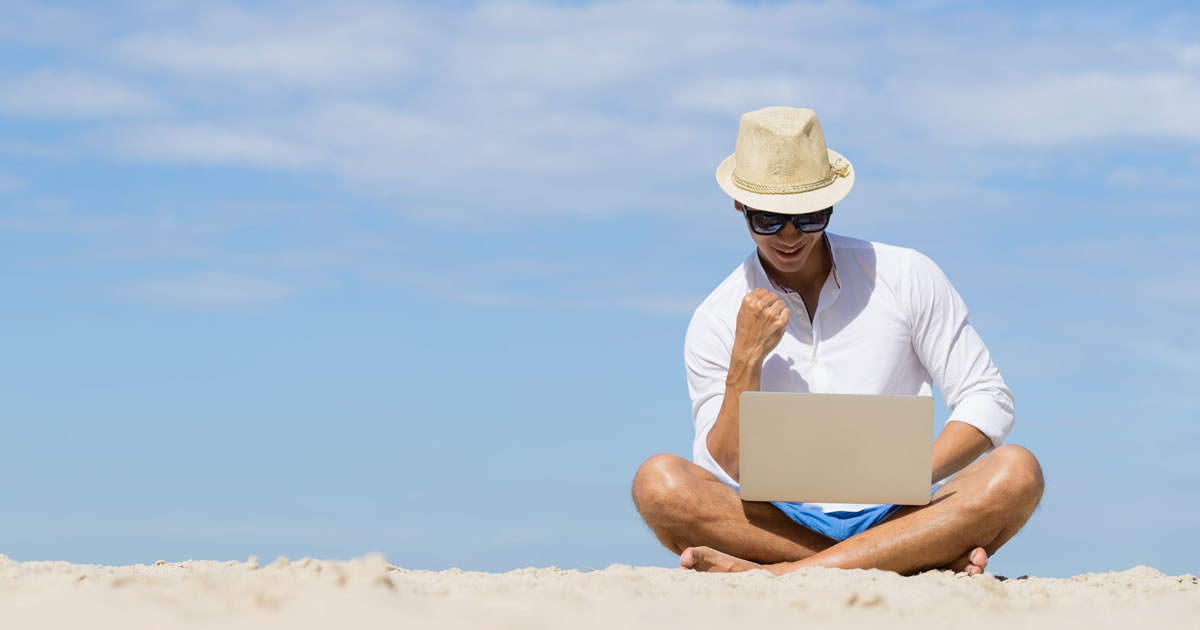 In my almost 20 years as a full-time professional freelance web writer, I've written quite a bit of content.
But it's always been for my clients. I haven't yet taken the plunge and launched my own blog. But I think that might be about to change …
I'd like to introduce you to the bloggers who opened my eyes to the possibilities (and oh my, what amazing possibilities!).
This post is going to be a little different because I'm going to link you to a more in-depth story of each of these bloggers. But I want to give you a quick-take on each one here, just so you can get a picture of how delightfully life-changing launching your own blog can be.
From $700 a Month to $3.5 Million a Year
Sarah Titus had her life turned upside down when her husband of 14 years walked out on her and their children. She didn't know what she was going to do, but she knew she needed to find a way to provide for her children.
She started selling items on eBay. And she made enough on that to get by. But it was a stretch. She was making ends meet on about $700 a month. She got really good at stretching her budget. So good, in fact, that a lot of her friends asked her about money-saving tips.
She began answering their questions through a password-protected blog. Eventually, she opened the blog, SarahTitus.com, to the public. Traffic exploded. Her audience grew. She learned a lot. And now, Sarah makes around $3.5 million a year through her blogging efforts. See more of Sarah's story.
Filling a Gap Online
Everyone told Emma Johnson not to start writing a blog geared toward single mothers … because single mothers don't have the discretionary income to make it profitable to write a blog addressing their needs.
But Emma was a single mother. And she was frustrated with the lack of information available to women like her to help them balance their career with their family and to make smart financial decisions.
Emma chucked the advice she was getting and decided to become the voice she felt was missing. Her blog, Wealthy Single Mommy, quickly became her business and her sole source of income. See how Emma's journey unfolded here.
Life on a Boat
Michelle Schroeder-Gardener didn't set out to earn money through a blog. She started her blog, Making Sense of Cents, as a hobby. She wanted to learn more about personal finance, and she thought it would be fun to share her journey.
She fell in love with blogging. She loved the writing, and she loved the connections she was making with her readers. Before long, she realized she could make some money from it. And then she realized she could make a good living from it.
Michelle used her blog to finance an on-the-road lifestyle, living in an RV and traveling all over. Not too long ago, Michelle traded in her RV for a sailboat, and now she lives life on the water.
Her adventurous lifestyle is made possible from blogging.
The Core Engine of a Thriving Business
When Danny Iny launched his marketing consulting company, he spent a lot of time growing the company's blog. Not only that, he spent a lot of time working with other bloggers in the industry, contributing to their blogs.
Those relationships led to a growing audience and unexpected opportunities. Danny is careful to say that a blog itself does not earn income. But it does earn attention, and then you can convert that attention into an income.
The Mirasee blog served as the core engine of the company's growth to seven-figures. Read more about Danny's blog and his advice to beginning bloggers right here.
A Chance to Tell Stories
Yaro Starak didn't begin blogging as a way to make money. He had experimented with blogging for one of his online entrepreneurial ventures and realized he liked the storytelling part of it.
He had a ton of stories from his years as a serial entrepreneur, and he knew those stories might be helpful for other people starting their own online businesses. So he launched the Entrepreneur's Journey. As his audience grew, Yaro's natural business-mindedness kicked in and he began thinking about ways to earn money from his blog.
Fast-forward 15 years and his blog has turned into a seven-figure venture and a full-time career. Learn more about how he did it, here.
Building a Life You Want
When Holly Reisem-Hanna became a mother, she decided to stay at home. She wanted to be there with her daughter, present for all the milestones that happen in those early years.
But she also wanted to continue to earn an income. She turned to the internet and scoured it for a way to make money that would fit with the busy at-home lifestyle that comes with having an infant.
What she found was a whole lotta scams. Holly knew there had to be legitimate opportunities out there. And she knew it shouldn't be so hard to find them. With that realization, an idea was born … a blog to help women just like her.
Since that time, Holly has grown her blog, The Work-at-Home Woman, and become a well-known influencer appearing on CNN, The Huffington Post, Real Simple, and other notable publications and productions. Holly shares more about her blogging journey right here.
Following Your Passion
When Carol Bryant made the decision to launch a blog, she didn't agonize over the topic. Not even a little.
She knew exactly what she wanted to write about and who she wanted to serve. Carol has a passion for dogs, for their health and wellness … and especially for cocker spaniels. So creating a blog centered around research-based information addressing common dog health issues, and especially those specific to the cocker spaniel breed, was a no-brainer.
Carol's blog, Fidose of Reality, has led to numerous opportunities for her. As a result of the online reputation her blog has built for her, Carol has appeared in Dog Fancy, AKC Family Dog, Today(.)com, and many other well-known publications within her industry. Read Carol's full blogging story here.
Using Your Blog as a Tool
For Nick Usborne, blogging has been a tool. One he's used several times over to support different business ventures.
From his copywriting business to his online teaching to his site about coffee, Nick has used blogging to grow his reputation, establish a connection with his audience, bring in clients, and in the case of Coffee Detective, to earn a side income that's approaching a half million dollars since the site's launch.
Nick has a number of key insights into how to integrate your blog with other emerging technologies on the internet, and you can read more about those here.
Living a Beautiful Life
Sally O'Neill stumbled into blogging completely by accident.
When she moved to Australia from the UK, two things happened. First, she became interested in food and fitness. As she worked to eat healthier, she quickly realized that plain-tasting, low-calorie options weren't going to cut it.
And second, as her healthy cooking skills got better and better, she wanted an easy way to share those recipes with her mum. She ended up using a website to make sharing easier.
But then a funny thing happened. A lot more people than her mum were visiting her site. Once she realized she had traffic, The Fit Foodie was born.
Since then, Sal's love of healthy food, inspired living, and beautiful photography has become a sustainable passion, one that earns her a six-figure income. Read Sal's full story here.
Launching with 13,000 Subscribers
Jon Morrow is perhaps one of the most famous bloggers around. He's certainly one of the most successful.
But it hasn't always been that way. When Jon first tried blogging, it didn't go so well. He referred to the results as embarrassing. But Jon worked hard. He made connections. And he mastered his craft. After spending a couple of years working with both Brian Clark and Neil Patel, Jon decided it was time to launch his own blog.
Of course, he'd learned a thing or two along way. Jon leveraged his connections and his understanding of social media to build a subscriber base of 13,000 people … before he ever wrote his first post.
Jon's blog Smart Blogger supports bloggers. And it earns more than a seven-figure income, as well. Learn more about Jon's story and his advice for writers who are just getting started.
As you can see, whether you're learning something new and want to share your journey, or you have a passion you want to share with the world, or you have a business and you're looking for a way to grow an audience, blogging can be a core factor in helping you succeed. Stick with it long enough, and that success might be bigger than you dared to imagine.
To learn more about this fun, well-paid writing project, go here.
And if you'd like to start a blog but worry you'll have trouble filling it up every time, check out this article: 3 Ways to Never Run Out of Ideas for Your Blog.
Now is the ideal time to get started as a blog writer. Do you have any questions? Share with us below so we can help.

How to Write Blogs for Yourself and Clients: A Step-by-Step Guide to Blogging Success
Every writer should know how to write blogs. You'll become a better writer faster. And you can make great money writing blogs for yourself or for clients. Learn More »

Published: September 22, 2020