Living the Writer's Life: Steve Coombes
Past $10K Challenge Winner Perseveres on a New Path in Coaching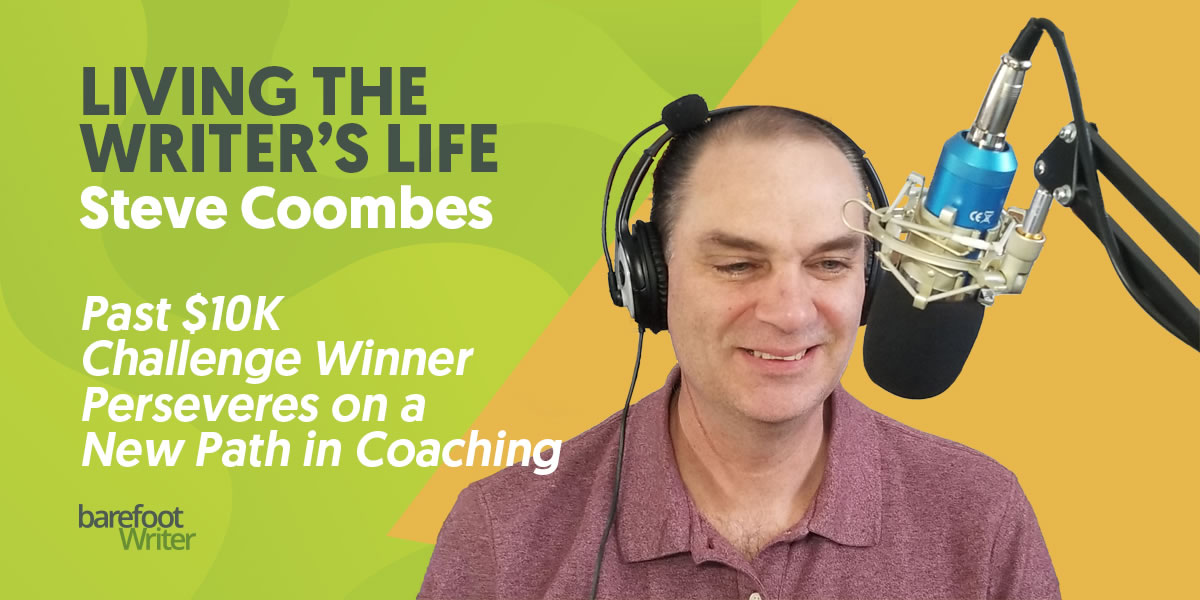 Steve is proof that "work" can be fun, shown here conducting an interview for his podcast.
The year was 2014, and Steve Coombes and his entire family were invited on stage at AWAI's annual Bootcamp, where he would receive the coveted $10K Challenge prize. This was the moment … He had truly "arrived" in the world of copywriting. Since then, Steve has seen his writing career grow and evolve. Through it all, he has still had time to hang out with his young sons.
In your last interview, you told us how you became a Barefoot Writer so you could spend more time with your kids. What has that decision meant to you these past nine years?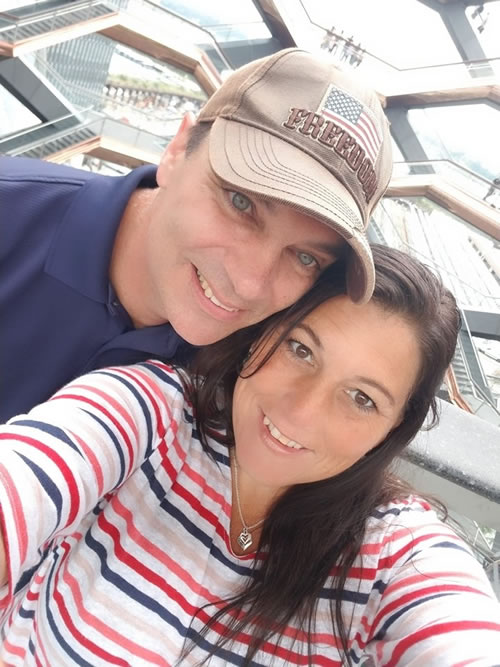 Steve and his wife, Denise,
at The Vessel in Manhattan,
New York City, New York.
I started my writing journey in earnest in 2007 and went full-time in 2009 after being laid off from my last corporate job. Sometimes I work harder in my own business than I did for an employer — but I wouldn't trade it for the world.
It gives me the complete time flexibility to choose where I work from and when I do the work, and, by creating value for clients, to have limitless income potential. I make far more than I did in the corporate world and never have to ask a boss to take a day off.
Right now as I complete this interview with you, our family is halfway across the country in Texas visiting our daughter's new family for a few weeks … No need to ask permission. I choose when and from where I work and never lose a penny.
Can you share some of your proudest successes? What kinds of writing clients have you worked for?
Starting out I worked for anyone willing to cut me a check.
My first official niche of natural health alone has paid me close to a million dollars in writing income over the years. I've also enjoyed writing copy for the emergency preparedness and survival niche. I've written a number of email and Web sales letter controls over my career.
These are some of my proudest successes:
Landing my first "real" copywriting project — a sales letter from a Job Fair spec assignment at my first Bootcamp in 2009. That client, The Healthy Back Institute, is still my client to this day and pays me on retainer every month to write for them. I'm proud of the long-lasting relationship I've built with them.
I'm also particularly proud of my first sales letter for AWAI, which earned me the 2014 $10K Challenge award. I believe AWAI still uses a version of that sales letter to this day for the product. I was intimidated to write for AWAI for years but found it a wonderful experience and have enjoyed writing for and working with AWAI many times since. In a way, I felt earning that award was when I had truly "arrived" in the copywriting world, as it was one of my earliest goals when I started this writing journey.
And creating my own "spec assignment" by reaching out to a company cold after I got a marketing email from them. I offered to write a new headline and lead that would beat their control … They gave me a yes exactly 33 minutes after I'd emailed them … and I went on to write a new control headline and lead in a couple of hours that paid handsomely for the time invested.
Has writing opened any doors to new opportunities for you?
My dream from an early age was to own a successful business of my own. Writing was my first successful solopreneur business. That success has enabled me to start two more businesses, including a business coaching other solopreneurs in starting and growing their own business and an Amazon arbitrage business.
What are the most important lessons you've learned so far in your career?
Perseverance. You will face challenges and setbacks in any worthwhile venture. I've found persevering is a whole lot easier when you have people you trust in your corner, cheering you on, encouraging you, and giving you sound advice. I'm grateful for the many relationships I've built with other writers and entrepreneurs who have helped me, and I try to pay that forward every day.
Can you share any hopes for the future?
I have a big vision: to help 1 million solopreneurs start and grow their own business. It's a huge and daunting number, but I'm determined to make it a reality through my coaching and Solopreneur Success Connections community, Solopreneur Success podcast, public speaking, and more. I believe in big dreams and hard work that can make them a reality.
Steve's Living The Writer's Life story was originally published in Barefoot Writer. To learn more about how you can start living your dream writer's life too, click here.
What help do you need to move forward with your version of the writer's life? Let us know in the comments below so we can help guide you in the right direction.

The Barefoot Writer
Discover a lucrative style of writing that will give you as much freedom as you can have while earning a great income at the same time. Learn More »

Published: April 24, 2021