Why Every Freelance Writer Needs a Website Now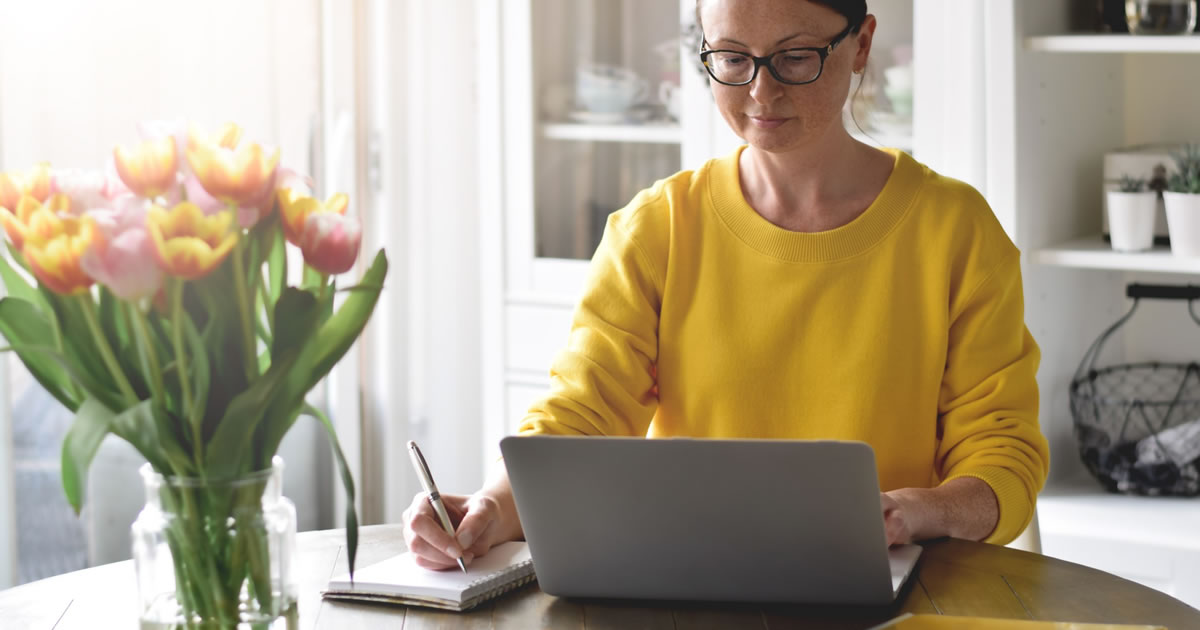 Can you name one business that's not online in some form or other?
They're few and far between. If you don't have a website or some form of social media profile, then no one will find your business.
As writers, many of us build a strong LinkedIn profile and believe that's enough. Why would we need a website as well?
The answer is simple.
You own your website. But you don't own your social media profile.
My point? Well, let me tell you a rather scary story about Facebook. After reading this, you might understand the value and importance of your own website …
The Unimaginable Just Happened
In February 2021, the Australian Government took a stance against social media and search engines for publishing free news content. The argument goes like this. Facebook, Google, and their contemporaries were publishing news content from a myriad of news outlets … all for free.
These big companies were publishing free news content, then driving traffic to their sites (rather than to the news sites) and making bucket loads of money from advertising.
What an extraordinary business model. Imagine if you had zero expenses and just raked in the income … no car expenses, no office expenses, nothing. You'd be rich!
The Australian Government decided it was time to take a stand.
Traditional media outlets were leaning heavily on the Government to stem the bleeding. There's a whole lot of politics and favors being repaid (as always!) which we won't go into, however the logic is sound … how do traditional media companies pay their journalists, if the likes of Google and Facebook are giving their content away for free?
Google eventually rolled over and started negotiating contracts with a whole swathe of media outlets, big and small.
Facebook, however, took a different approach.
They decided to teach the Australian Government a lesson. Within hours, every news page on Facebook was blank … even the header images disappeared.
But they went too far. Here's the scary part.
Facebook cast their net even wider. They included every business page or group which had shared a news story. Whether it was a day earlier or three years earlier … every business page or group which had ever shared one or more news posts at any time in the past was wiped. Not just the individual news items in question … every piece of content disappeared.
The result?
Hundreds of thousands of business pages and groups disappeared instantly. Even our Outback Travel Facebook page for Top Wire Traveller was wiped. Why? Because we had simply shared a few news items our followers might be interested in.
Emergency services, domestic violence support groups, environmental groups, tens of thousands of small businesses, even the bureau of meteorology … all gone in an instant.
After a massive outcry, Facebook backtracked and re-instated these sites. But it took them four long days.
Now consider this. Imagine a business has a Facebook profile but no website?
So what happens if (or when) they disappear off Facebook? It can wipe out their business within a day or two.
In fact, it did.
Some small businesses went broke … in the space of just four days. They were the ones who had gone all-in, with a Facebook Shop as their sole retail outlet.
The unimaginable actually happened in Australia. A social media giant wielded their power and none of us could do a single thing about it.
The moral of this story?
Take Control of Your Business
Always bear in mind, you do not own your social media profile. This includes LinkedIn, Facebook, Twitter, Instagram, Pinterest … every social media channel.
Many copywriters have a LinkedIn profile and use it to attract prospects and clients. And that's great. LinkedIn is an ideal place for copywriters to find prospects.
But what if LinkedIn deleted your account, just like Facebook did in Australia? What then? Suddenly, you're invisible.
You'd have to start over.
Sure, social media is an integral part of any marketing campaign these days. But rather than making a social media profile your home base, use it to drive traffic to your website instead.
You own your website. No one else can shut it down or delete it. Your website is your unmovable rock in the middle of the ocean, your safe haven which no one else can touch.
What Holds You Back?
So, what's stopping you from getting started on your freelance website? Likely, there are lots of reasons.
Let's cover five of the most common roadblocks and briefly go through each one. Plus, we'll give you some helpful tips to getting past these hurdles.
1. You Don't Have a Niche
Okay, so you're starting out and don't have a niche. Well, it's time to choose one!
Give yourself seven days to decide on a niche. Who better to help you with this than Pam Foster, Rebecca Matter, and Katie Yeakle? They have an excellent free webinar called How to Choose a Profitable Niche to Attract Copywriting Clients.
Like many new writers, your biggest fear may be that you'll choose a niche then decide to change. So then you'll need to change your website. I understand your reservations.
But it's okay. You can easily change the website copy to reflect your new niche. Look on the bright side … it's ideal web-writing practice exercise! (That reminds me, I need to update my business website!)
2. You Don't Like Self-Promotion
Welcome to the club! I can't think of many people who do enjoy promoting themselves.
The trick?
Your website's not about you. To be blunt, prospects don't care about you. Rather, they land on your site because they have a problem and are looking for a solution to their problem.
Yes, you need to persuade prospects you're the right person for the job. However, consider why a prospect landed on your site in the first place. They need a solution to their problem.
So, you need to show them you understand their pain points and can provide a solution … always think about what's in it for them. Show how you can help them.
3. You Don't Have Any Experience
Ah, but you do!
First up, you have access to AWAI's extensive training and support. So, you're already way ahead of the copywriting pack.
Secondly, what experience do you have from previous careers, prior jobs, volunteer efforts, hobbies, and charity work? You have a whole range of knowledge … probably about a particular industry … knowledge you may not even realize you have.
Imagine you work in childcare, for example. You understand parents' primary concerns, the latest early childhood learning skills, what learning tools are available … you speak the industry's language.
Then, if I were marketing manager for a chain of Childcare Centers, I'd want to hire someone who had actually worked in the industry, someone who speaks the language, someone who understands my industry.
I'd much rather hire you, than an experienced copywriter who knew nothing about the childcare industry … even if you were just starting out as a writer.
4. You Don't Have Any Samples
To paraphrase Joshua Boswell, "You're a copywriter, so write some!"
And that's great advice. Here are a few ideas for samples:
Your website is already a sample of your copywriting skills. Take the time to craft killer persuasive copy and your site automatically becomes a sample by default.
Start a blog on your website and write posts about your niche. Then when someone asks for samples, send them a link to your blog.
Take a look at websites in your niche. Choose well-known brands, then take their About page, homepage, a landing page, a blog post, and so on … and re-write them as samples. Make yours better than theirs. This is a great way to showcase your copywriting skills!
And if you're looking for more ideas, here's a super-useful resource to check out … How to Create a Winning Portfolio of Samples If You're Just Starting a Freelance Writing Career (Even If You've Never Had Any Clients!).
5. You Don't Have Any Website-Building Skills
Hey, neither did I until I tried to build my own website!
And it wasn't until I took AWAI's Build Your Freelance Website in Four Days program that it all clicked and came together. In fact, I flailed around blindly for months trying to make sense of WordPress … until I discovered this excellent program.
Rebecca Matter created Build Your Freelance Website in Four Days to help non-techie writers build their own site.
Over the course of four webinars, she walks you through everything from planning and writing your website content, to making all the technical decisions about your domain name, hosting, and more, to actually putting up your website and taking it live.
It de-mystifies the technical side of building a website. And, it gives you the power to do-it-yourself, and make changes as they come up.
The program is updated each year to ensure it incorporates the latest trends and website "must-haves," so you'll always be up-to-date.
And you gain access to a fantastic Facebook group, where you get lots of supportive help from peers and experts.
Another option is to go with what are called website builders. Some are better than others, but they are all based on "drag and drop." This is where you drag the components you want from a menu and drop them on the page.
So you really don't need any website-building skills or experience to get started. Don't let that hold you back any more.
Wrapping Up
Every freelance copywriter needs a website. Why?
You own your website. Unlike social media, no one else can touch it.
Never build a business profile solely on a social media channel. Build a website instead. As Facebook recently proved in Australia, social media channels have no issue with deleting your account if it helps their bottom line or suits their purposes.
Social media is a great platform for driving traffic to your website. Use social media for this and for connecting with followers. But make your website your business home base … not a social media channel.
You're a copywriter. Prospects and clients kind of expect a writer to have a website!
Use your website to showcase your writing style. Write samples, blog posts … or whatever best displays your copywriting skills.
I'm sure we could all come up with 10 or more reasons why we haven't started building our own website yet. And you'll likely have at least one of these on your list:
No niche yet.
Self-promotion feels wrong.
No experience.
No samples.
No website-building skills.
Well, we addressed those five. So what's stopping you? Get started on your freelance website today!
Do you have any questions about building your freelance website? If so, ask us in the comments so we can help.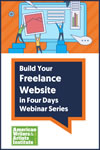 Build Your Freelance Website in Four Days
No matter what niche you're in, if you're a freelancer, you must have a website that showcases what you do. You can launch your own professional website in just 4 days. Experts show you every step. Learn More »

Published: May 14, 2021