Living the Writer's Life: Jason Gaspero
"I Swear, the Monkeys Are Taking Over the Island!"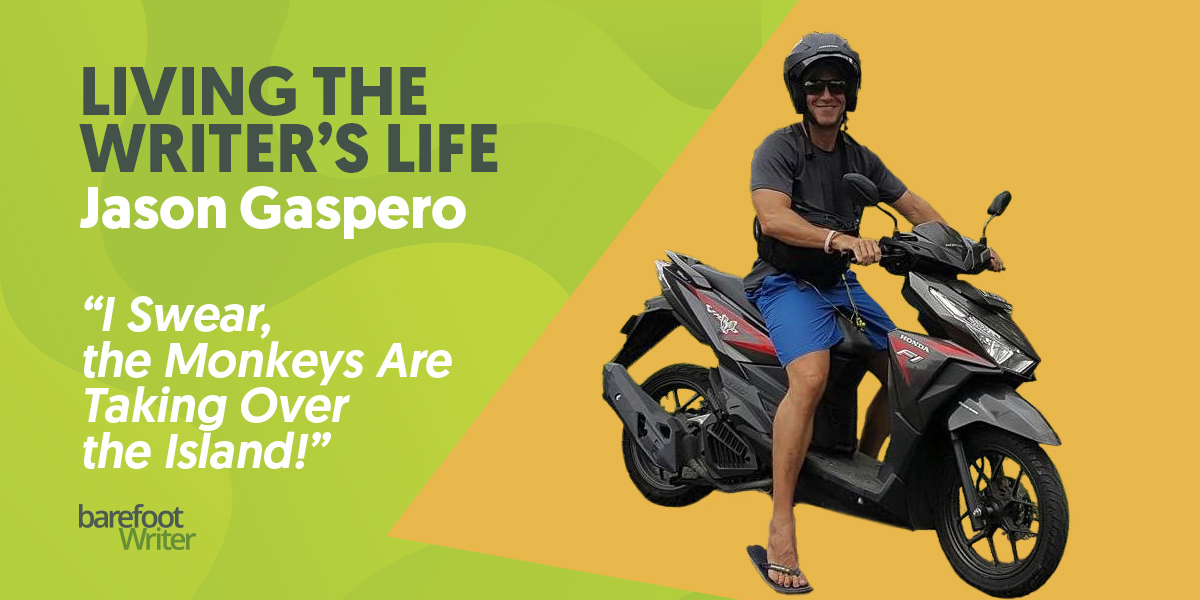 Writer Jason Gaspero cruising around Bali on a motorbike
Jason Gaspero loves the beaches, community, and food on his adopted island home of Koh Phangan in Thailand. Working as a copywriter, he gets his ideas for promotions while enjoying the beach and laughs about how the monkeys are taking over the island. If you've ever thought of living your writer's life overseas, you'll love this interview where we catch up with Jason — nine years after we first featured him on our pages!
You just landed your dream client. Tell us about it!
I was recently hired as a full-time copywriter for Strategic Profits. For me, this is a dream opportunity because I get to work directly with Rich Schefren, one of the most respected internet marketing "gurus" in the business, and the rest of the Strategic Profits team.
Right now, I'm helping promote a cutting-edge resource called Steal Our Winners — which provides internet marketers, agency owners, online entrepreneurs, and service providers access to the best online business strategies and tactics that are working right now.
What's it like living and working from Thailand?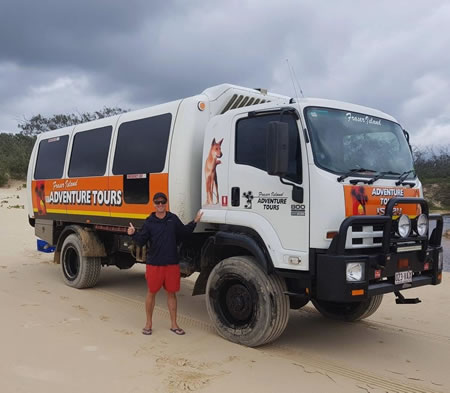 Jason exploring Fraser Island, Australia
in a purpose-built 4WD vehicle.
Living in Thailand is amazing, for so many reasons.
For starters, it's got tropical scenery and warm, balmy year-round weather … world-class beaches … lush-green jungles teeming with exotic wildlife … postcard-perfect sunsets … affordable prices … and, of course, the food!
It's also ideal for a remote worker like myself that needs a few things sorted out in advance in order to get things done.
For example, we've now got fiber-optic internet access right here on Koh Phangan.
It's blazing fast!
And as far as "setting up shop" in a place like Koh Phangan, it's easier than ever to find out everything you need to know these days — thanks to all the Facebook "expat" groups that now exist.
Ask any questions, and usually within just a few minutes, you'll get the lowdown on everything from where to live, where to eat, how to sort out a long-term visa, where to meet like-minded expats, and more.
Can you tell us more about the digital nomad community in Thailand?
I'm pretty sure I was the very first "digital nomad" when I first arrived here in January of 2007.
Koh Phangan is considered one of the best places in the world to be a digital nomad these days.
There are literally hundreds of digital nomads here now, doing everything from app development, course creation, programming, and more.
How do you think your adventurous attitude has helped you become a successful writer?
I believe it's super important to expose yourself to as much new stimuli as possible in order to generate a consistently fresh flow of "big ideas" you can use in promotions.
In fact, I've gotten some of my best and most lucrative ideas from the most random, "nonwriting" activities you could think of while traveling the world.
For example, I once got an idea from the cover of a surf magazine I was reading on the North Shore of Hawaii that beat a control by 200 percent. [Editor's note: A "control" is the current, most successful piece of copy in a sales cycle to convert clicks to purchases.]
I got another idea that wound up making me well over $25,000 in royalties from a random $9.99 Kindle book about living and working in Chiang Mai, Thailand. TIP: The more you read, the more you'll make!
What advice would you give to new writers who want to start writing from abroad?
A few things: Learn as much as you can about getting and keeping great clients. Also, try your best to stay in one place for a few weeks or even months (travel causes a lot of "decision fatigue" which gets in the way of doing your best writing).
Also, get your best work done in the morning, preferably as soon as you wake up, and don't do more than 4.5 hours of "deep work" on any given day. After that, your brain will be toast.
I also recommend you take two days off every week, no matter what. Take care of your health. And then surround yourself with people smarter than you are, stay dialed in with what's happening with your chosen niche or industry, and never, ever get complacent. Always maintain "beginner's mind," no matter how badass you may think you are. Finally, enjoy the journey.
Jason's Living The Writer's Life story was originally published in Barefoot Writer. To learn more about how you can start living your dream writer's life too, click here.
What help do you need to move forward with your version of the writer's life? Let us know in the comments below so we can help guide you in the right direction.

The Barefoot Writer
Discover a lucrative style of writing that will give you as much freedom as you can have while earning a great income at the same time. Learn More »

Published: February 5, 2022