Living the Writer's Life: Roy Furr
How to Use the 1% Trick to Make Astronomical Gains in Your Writing Career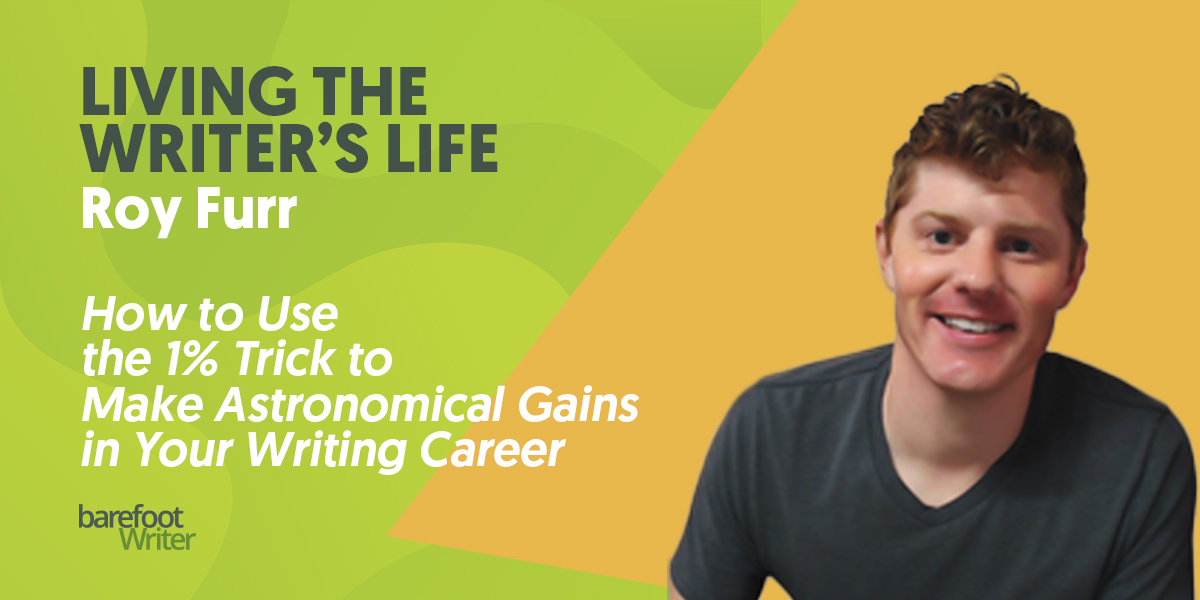 Roy works as a financial copywriter and uses the 1% trick to make steady gains in his writing career.
We first met Roy Furr 10 years ago when he was building his writer's life in the financial niche. Since then, Roy has had the chance to learn from some of the greatest masters in our industry and has turned a simple daily email for a few other writers into a lucrative training community. Today, he's helping the next generation of writers build million-dollar promotions. You'll love this interview where Roy shares the 1% trick he uses to keep his clients and customers coming back over and over again.
Can you share some of the highlights of your writing career since we last spoke with you in 2012?
The first thing that comes to mind is working with Brian Kurtz on his promo for Titans of Direct Response in 2014. That was huge. The event featured many of my marketing and business heroes, including Dan Kennedy, Gary Bencivenga, Jay Abraham, and more. It was one of the most visible promotions in our field in the last decade. It's an honor I will forever value.
Most of my work since 2012 was with the bigger financial publishers. I set that as my intention before getting into full-time freelance copywriting and was able to make it happen. Based on the success of my copy, I was able to have all the client work I wanted! Recently, I've been branching out. I create marketing funnels for a mix of clients. And I help thousands of copywriter-entrepreneurs around the world through my own publishing, training, and coaching. I'm even seeing many of my own students go on to create big wins. One of my first coaching clients just told me one of his funnels is getting close to $100 million in sales!
What kind of work or clients takes up most of your time today?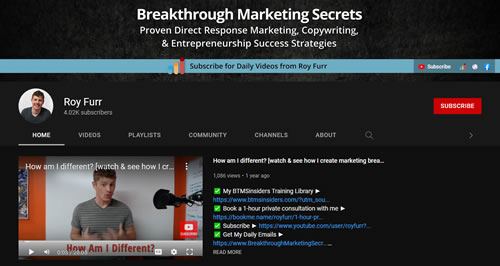 A daily email to a few other writers
evolved over the years into Roy's
successful website and YouTube channel
called Breakthrough Marketing Secrets.
I'm picky about taking on new client copywriting work right now. When I do, it's typically a big customer acquisition funnel, for an ROI-oriented [return-on-investment-oriented] product. I want something that will scale when successful.
I'm also doing coaching and consulting. This can be anything from one-off copy reviews to going deep with a client to improve their copy and marketing. And I'm spending a significant amount of time on my daily Breakthrough Marketing Secrets episodes and my BTMSinsiders training library membership.
Your BTMSinsiders is a really impressive site! What inspired you to start helping other writers and marketers?
I've always felt drawn to teaching, but never saw myself in a classroom. I know I can learn things, reflect on them, connect ideas, integrate lessons from multiple sources, loop in my experience, and teach it all in a way that is useful. It took me a long time to get confident enough to start. But once I started Breakthrough Marketing Secrets (in 2014), I just went all in. What began as a daily email for a few other copywriters evolved into a significant chunk of what I do.
You always try to improve 1% per week as a writer? Can you tell us about this?
Warren Buffett became one of the richest people in the world with small, consistent gains in his investment portfolio. His average return is about 20% per year. He regularly champions consistent compounding gains. Most people think about this for money. But they don't consider it for skills. Every skill improvement builds on the last. One percent every week, compounded, is 68% improvement this year. In 10 years, you're 17,565% better. Twenty years makes you more than 3,000,000% better. It sounds astronomical, but this is how to become great.
How to do it? Work + reflection + active learning. Do your work. Reflect on what worked and what didn't. Ask "Why?" And actively find whatever resources you need to help you do better next time. Learn through experience, success, and especially failure.
What are the best things you enjoy about your writer's life?
I haven't worked a normal full-time week since 2010. I take my kids to and from school. I work half-time in the summers. I'm around as a parent. We take family road trips in the summer. And I don't worry about asking for time off. All while making a very solid income. That flexibility has been my biggest priority so far in my writer's life.
Roy's Living The Writer's Life story was originally published in Barefoot Writer. To learn more about how you can start living your dream writer's life too, click here.
What help do you need to move forward with your version of the writer's life? Let us know in the comments below so we can help guide you in the right direction.

The Barefoot Writer
Discover a lucrative style of writing that will give you as much freedom as you can have while earning a great income at the same time. Learn More »

Published: March 5, 2022