Living the Writer's Life: Julia Borgini
Goodbye Anxiety, Hello Freedom!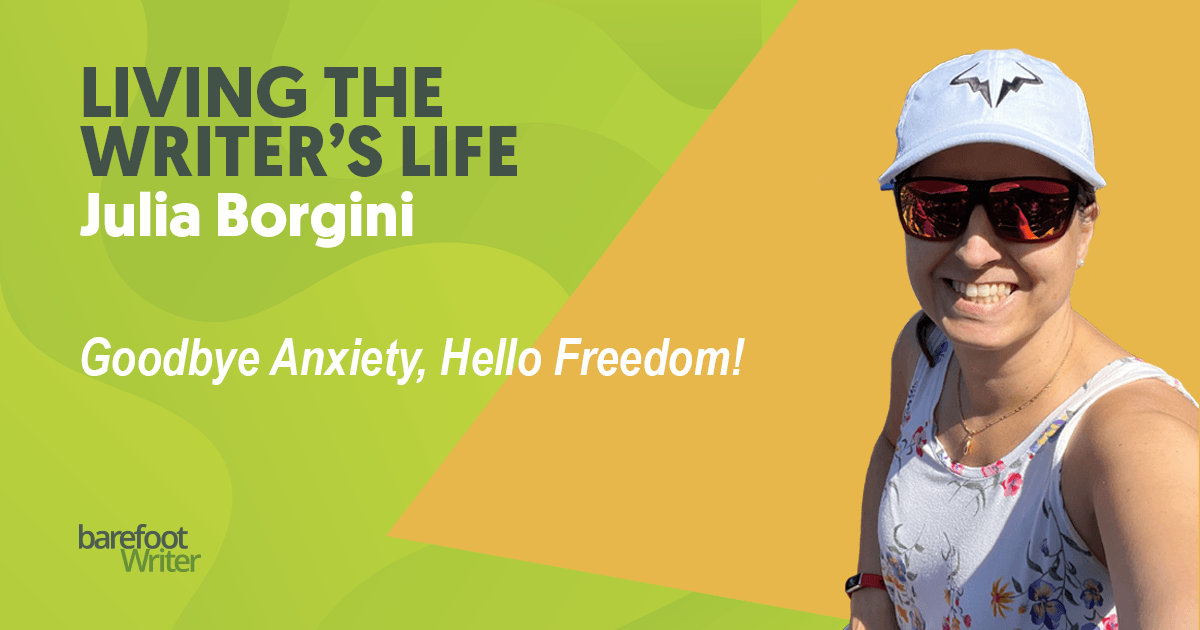 Julia checks out the professional tennis games at the National Bank Open 2022.
(The women were in town last year; they alternate with the men.)
Julia Borgini's work life always involved writing in some capacity, but it didn't take long for her to realize not all writing jobs are created equal. When life took a stressful turn and she needed a change, the appeal of more autonomy and creativity brought copywriting to the forefront. Read on to discover how she melded her previous career skills with freelancing, and how she's built a joyful writing life that's still going strong more than a decade later.
Why did you first turn to copywriting for a living?
Well, I've always been a professional writer, so that part hasn't changed. But for the first part of my career, I was always working for other people. I was a technical writer because I am a geek and a frustrated novelist. I wrote software manuals and things like that. Then about 12 years ago, I got tired of it. I wanted to do something more creative than just writing procedures. While my colleagues were great and the work was fun, the environment was just not the best for me. It actually spun me into some severe anxiety and whatnot, and I needed to change some things around. So I decided to dive into full-time freelancing at that point. Now I work for myself. I do copywriting and content marketing for the same type of companies I used to work for, but now I help sell their stuff instead of just support it.
What writing specialty do you focus on?
I've kind of landed on doing a lot of corporate blogging. It's either ghostwritten or under my own byline. And that's for technology companies, for the agency clients, or even some online technology magazines, as I call them. They're publications — they're not really magazines per se. I also do short reports and short white papers.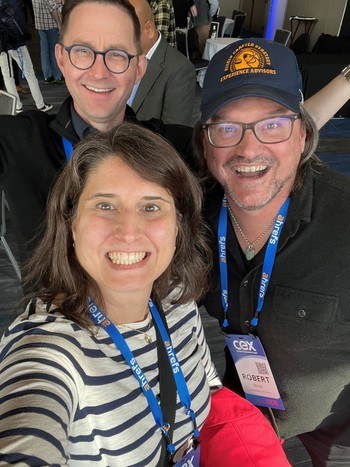 Julia at the CEX
2023 conference with
Andy Crestodina (L)
and Robert Rose (R)
in Cleveland, Ohio.
What ranks high for you on the "best things about being a writer" list?
The freedom, definitely. I mentioned earlier that I had developed some severe anxiety from all the stress from work and just couldn't handle things anymore. So one of the things I like is having the freedom to actually set my schedule, and then also take care of both my mental and physical health. I can spontaneously schedule a weekend away if I need a change of scene. I'm able to better gauge, basically, how my professional and personal life goes in terms of all that, because I'm the one in control of the workflow.
Can you give me an example of how you make the most of your flexible schedule?
I try to get to my desk by 8:30 a.m., but that doesn't always happen. For example, the other day I wanted to watch some of the Women's World Cup, so it was about 9:40 by the time I sat down at my desk. But mornings are usually for writing and heavy-lifting activities. That might be outlining, writing, any of that kind of related stuff. Afternoons I try to keep for lighter things, whether that's researching some admin stuff, maybe some emails if they can wait, that type of thing.
Or if it's 2 p.m. and I'm finished, I might go out and do some exercise, or I might run some errands. I try to keep my workday a little light, if that makes sense, in the afternoon, so that sometimes I do work in the afternoon, sometimes I don't.
And then Fridays, I try to keep it really light. I'll set myself up for the following week, check out all my invoices, look at all of my accounting stuff, all that kind of admin stuff we do as freelancers. But the other thing I'm definitely strict on is that I do not look at my email in the evenings, and definitely not on the weekend either. That is for visiting friends and family or doing non-work stuff.
What's one piece of advice that you would give to somebody who's where you were once and wants what you have now?
It's kind of two pieces. One leads into the other. The first is to do some research, look around, see if it is for you. But then the second would be to not wait. A lot of times as creatives, we fall into the trap of Oh, one more course, one more book, one more whatever. But really you just need to jump into it and see and figure it out as you go, because you can always change at any point in time.
Julia's Living The Writer's Life story was originally published in Barefoot Writer. To learn more about how you can start living your dream writer's life too, click here.
What help do you need to move forward with your version of the writer's life? Let us know in the comments below so we can help guide you in the right direction.
Published: August 19, 2023