Living the Writer's Life: Dave Sharpe
Bored, 'Bad Employee' Becomes Calm, In-Control Writer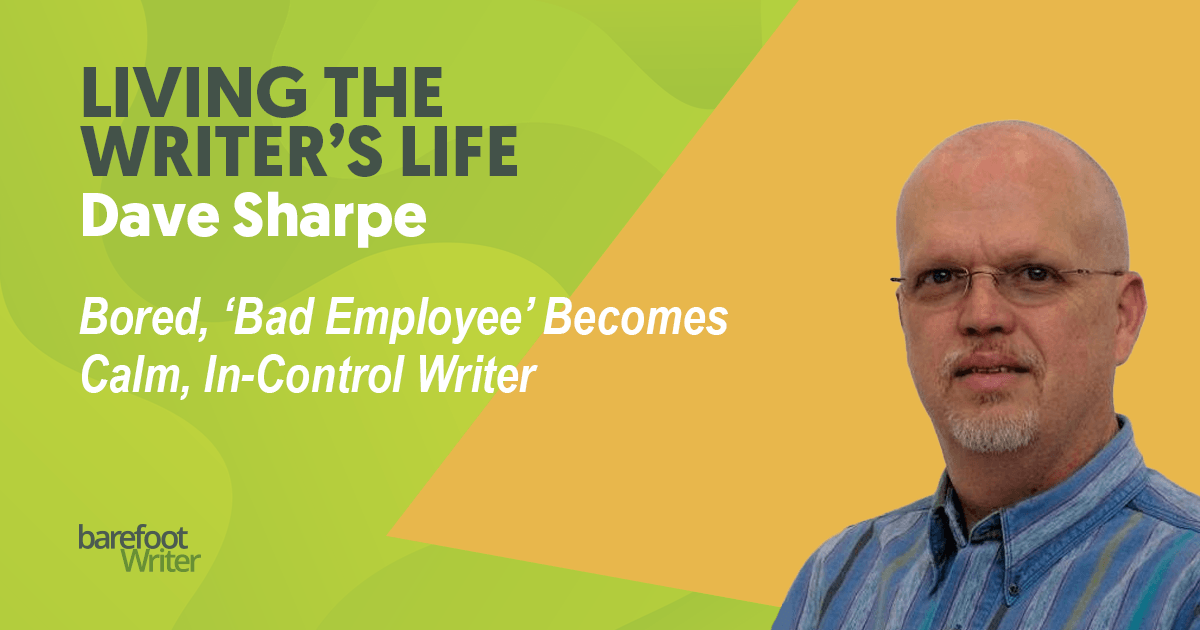 Self-professed "bad employee" Dave Sharpe desired nothing more than control within his own life. When a piece of sales content caught his eye, he discovered how writing might be the key to his escape. Read on to learn how he transitioned from always wanting more to being the head of his own writing agency in a trajectory that's changed not only his life but the lives of those closest to him.
Take me back to life before writing.
I've worked in a wide variety of jobs, and I was a bad employee in almost all of them. I had too many ideas, and I couldn't stay focused on the mundane part of my job. I wanted to have more control over my time and income. I wanted to be the boss. I wanted the flexibility to choose when I wanted to work and when I wanted to pursue my other interests.
You've hit on the major pain points most Barefoot Writers feel before they make the leap. How did that lead you to become a writer?
I was working with an import-export catalog company. One day I saw a product that we were marketing. I looked at the sales letter and I said, "Oh, I can do better than that."
So I started picking away at it, and about halfway through I realized, "No, I can't do better than that." I discovered I was getting an education as I was writing, trying to improve this sales letter. From there I wrote catalog copy and miscellaneous copy for articles and ads.
What do your writing projects look like now?
I do a lot of business communications process writing, as I call it. I'm also managing an agency, so I don't get to write much stuff for clients now. Instead, I write proposals for landing clients. I write proposals for landing donors for nonprofit organizations. I write standard operating procedures. I get to do a little bit of training writing. Yesterday I wrote a prompt-writing training session for my writers for AI.
How did you come to be in charge of an agency?
After I started learning direct-response copywriting, I picked up the Circle of Success membership. This was about 2010, and I was starting to work my way through a bunch of the courses. I answered an ad for a writer, and the guy that I ended up working with owned a midsize company. I was talking to him about some of the content marketing gaps that he had, and I did a site audit for his website. He liked it so much that it actually turned into a content development contract and $100,000 a year to write content for the website.
That was going so well that we decided to launch an agency to provide these services to other businesses. Now I've got 30 team members and they're scattered all over the world. We provide SEO and content marketing services for clients.
You went from a tiny interest in writing to running your own agency. What was your biggest challenge in getting there?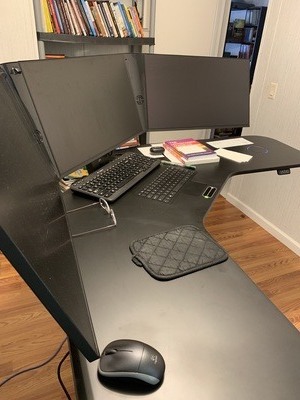 Dave reports that his desk
is "mostly cleaned off"
on a really good day. 😊
I really struggled with the idea that writing would work for me. And moving from that point to taking action was really difficult. I poked at this with a stick. I would do a little job here and a little job there, and I'd barter a little bit, but I didn't ever really think I could take it beyond that point. Believing that it would work for me was probably the biggest challenge. I'd tell writers new to this world to put the stick down. Quit poking it with a stick and just get busy.
How has working for yourself and writing for a living changed your life?
It's changed my ability to support my family and worthy causes. My income has tripled since I started this path 11 years ago. And as a result, my wife was able to quit her job and homeschool our son. When her father was diagnosed with a terminal illness, we moved across the country and helped with his care, and we didn't have to worry about getting jobs when we relocated. Recently my wife was able to go to Europe for two weeks. My son's in university, and we're able to provide the education and the extracurricular, supplemental types of things he needs.
If the car happens to break down, I don't have to worry about it now. There's responsibility that you have to keep in mind, but it is not the dramatic crisis that it used to be.
Dave's Living The Writer's Life story was originally published in Barefoot Writer. To learn more about how you can start living your dream writer's life too, click here.
What help do you need to move forward with your version of the writer's life? Let us know in the comments below so we can help guide you in the right direction.
Published: October 21, 2023