"You're Going to AWAI's Virtual Bootcamp!" Three Writer's Life Contest Winners Are Receiving a Ticket to Virtually Attend The Copywriting Event of the Year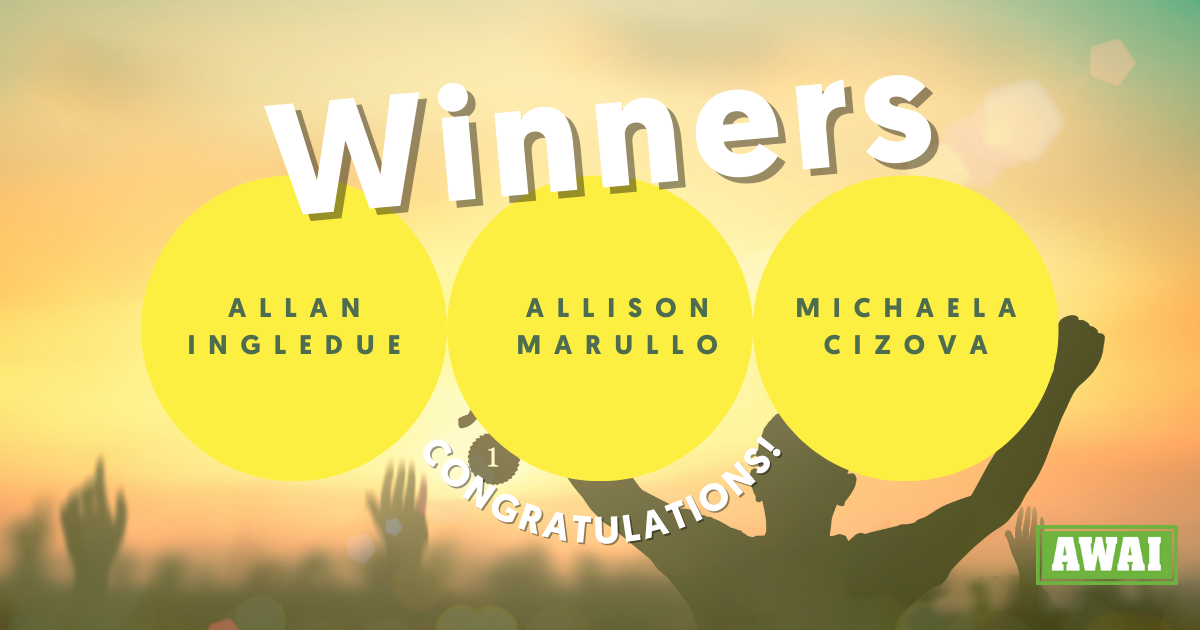 Big news! Three winners were just announced for The Writer's Life October Writing Contest.
Congratulations to Allan Ingledue, Allison Marullo, and Michaela Cizova — each the winner of a ticket to AWAI's 2023 Virtual Bootcamp! (A $2,495 value.)
Plus, we'd also like to add kudos to all the AWAI members who participated in this contest. Great job on making the effort — and be sure to add your sample to your portfolio!
The challenge was to persuade readers to watch one our classic Bootcamp Member Spotlights. (Read more about the contest here.)
The Member Spotlights are a high point of each day at Bootcamp … hearing the journey one of our members took from newbie to successful writer. The speakers tell thoughtful and engaging stories of their experiences and provide valuable tips for writers embarking on the journey to the writer's life.
Members were challenged to write just 83 words total to encourage the reader to watch one of the inspirational videos. Entries were judged on how attention-grabbing, persuasive, and engaging they were, and with so many great entries, it was difficult to narrow it down to just three winners.
Here is the prize-winning copy:
---
Allan Ingledue
Lattes + Fear: Unlikely Recipe for Copywriting Gold?
Stuck in a 'day job' rut, craving writing glory? You're not alone. Guillermo Rubio was right where you are — latte art by day, dreams of word art by night. Then fear stepped in. Now, he's swapped espresso shots for killer copy, tripling his income and gaining unparalleled freedom. Unlock Guillermo's exclusive, fear-fueled playbook — a three-step process and a life-changing five-step action plan. Don't let this rare gem slip away. Feeling the urge? Click Play NOW
---
Allison Marullo
Stepping Up to the Plate … and the Page!
What does baseball have in common with becoming a copywriter? Quite a lot, according to Michele Peterson. Practicing consistently to hone your skills, trusting in the guidance of your coaches, building a camaraderie with your teammates, having the courage to step up to the plate — even if you don't "feel" ready … Michele has been in your shoes. Now she has a thriving copywriting career. So can you. Watch her story and be inspired. Play ball!
---
Michaela Cizova
Overcoming Perfectionism and Making Your Writer's Life Happen
There is that voice again, 'You aren't ready to write for money yet, [Name].' Listen to Michele Peterson, who learned how to mute that perfectionist. In this Member Spotlight video, Michele talks about the 3 steps that got her to where you want to be. Having complete control over who you work with, working 20 hours a week for full-time income and never ever contemplating if you can afford both Netflix and Disney+ this month.
---
Congratulations again to our three winners — Allan Ingledue, Allison Marullo, and Michaela Cizova — and to everyone who took the time to submit an entry! Be sure to read our daily e-letter, The Writer's Life, for more contest opportunities.

The AWAI Method™ for Becoming a Skilled, In-Demand Copywriter
The AWAI Method™ combines the most up-to-date strategies, insights, and teaching methods with the tried-and-true copywriting fundamentals so you can take on ANY project — not just sales letters. Learn More »

Published: October 20, 2023