How to Tap Into the Lucrative World of "High-Ticket" Writing
Companies of all shapes and sizes NEED writers. When it comes to commerce… where people exchange money for goods or services…
… there are a few things a business or merchant has to explain:
What the product or service is
What it does
How it solves a problem, challenge, need, or desire
Why it's a better option than the competition's product or service
The terms — how much it costs, how to order it, any refund/return policies, shipping policies, etc.
Just think about when you go to buy a product from a company you've never heard of before…
You check out their website.
Their product page.
Their About Us page.
Maybe you take it a step further and take a look at their social media profiles to see what they're posting.
Maybe they even offer an email newsletter, where you can stay "in the loop" on what's happening.
Guess what?
The company more than likely hired high-ticket writers to create all of those social media posts… email newsletters… product descriptions… and the main webpages, like the About Us page… or the Our Values page…
And as you might imagine…
These are the kinds of projects that pay well.
Anywhere from $200 to $5,000+.
That's why there's never been a better time to become a high-ticket writer.
And 3-2-1 Launch is your fast track to getting started and getting "set up" to make money through high-ticket writing projects.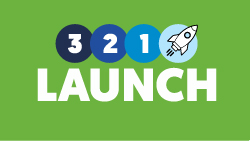 You'll hit the ground running by getting intimately familiar with the world of high-ticket writing.
You'll see how there's an abundance of opportunity, right now, for writers willing to take it.
You'll see where demand is highest, and why.
And you'll know exactly where to focus your high-ticket writing efforts.
And in terms of the business side of things, 3-2-1 Launch delivers in spades.
You'll discover how to find the right high-ticket writing clients for you…
You'll learn how to uncover the specific needs and pain points of those potential clients, so you know how to approach them (and land the high-ticket writing gig)…
And you'll go through a powerful exercise to get crystal clear on the kinds of businesses you'll help.
PLUS —
3-2-1 Launch gives you a full lesson on how to complete your very first high-ticket writing project.
You'll get a powerful and proven template to work with…
You'll understand the structure and the purpose of the template…
You'll follow step-by-step instructions for using the template…
And so much more.
What you'll learn in 3-2-1 Launch can put you squarely on the path to creating the freedom, flexibility, and income you crave.
It can quite literally double the income you might be making now…
Or it can add tens of thousands of dollars to your pocket over the coming weeks, months, and years.
The time to get started with high-ticket writing is now.
3-2-1 Launch: How to Set Yourself Up to Make Money as a Copywriter: $249.00
For More Information, click here…