Brian Clark:
Founder of Rainmaker Digital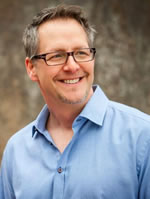 BRIAN CLARK is founder of Rainmaker Digital [formally Copyblogger Media], a serial entrepreneur, and a recovering attorney.
Brian built three successful offline businesses using online marketing techniques before moving to a completely online business model. The result of that move — Rainmaker Digital — is an innovative company that provides the advice and solutions that empower people to successfully grow their businesses through social media and online marketing.
Advertising Age ranks Copyblogger as a top marketing blog in its Power150 list. The Guardian named Copyblogger one of the world's 50 most powerful blogs. He was ranked #3 of the 100 Most Influential Online Marketers of 2009. Technorati says Copyblogger is one of the most popular blogs in the world. Business Week says entrepreneurs should follow Copyblogger on Twitter. Dunn and Bradstreet says Brian Clark is one of the most influential people in small business on Twitter.
Brian will be speaking on how to make money for your clients (and for yourself) using online content marketing strategies … the very ones that have earned him the accolades above.
Brian Clark Articles
Connect with Brian
Brian Clark Programs
The Only Kind of Marketing That Works No Matter What
Spam filters. Pop-up blockers. Do not call. Do not track.
Connecting with customers is harder than ever.
But there's a way to get the attention of your customers … to have them reading every word you right … sharing what you say with friends … jumping at the chance to read more.
This marketing method is so effective that some top experts say it's the ONLY kind of marketing left that works.
If want to cut through the noise, edge out their competition, and make a genuine connection with your potential buyers, then you need this …
This is the best opportunity for web writers right now. And quite possibly for years to come. And Content Mastery: Your Step-by-Step Guide to Becoming a Highly Paid Content Marketing Strategist, will help you take advantage of this trend while there's still time.
We've brought in Brian Clark, founder of Rainmaker Digital (formally Copyblogger Media) and possibly the most renowned content marketer online today. Brian knows what he's doing, and in eight simple steps, he'll teach you exactly what you need to know to become a master content marketer like him.
In this exciting program, you'll discover:
The importance of finding a niche where you can become known online.
The best ways to create your own personal footprint online.
How to write and publish great content.
The secrets to getting shares, Likes, and viral traffic so you get noticed.
The formula for making money working with great clients (or for your own businesses).
And much more!
Content marketing is the hottest trend in online marketing. It's vital to your web-writing success that you understand this marketing strategy … otherwise you'll be left behind. Don't let that happen.
Content Mastery: Your Step-by-Step Guide to Becoming a Highly Paid Content Marketing Strategist: $497.00