Your Proven 12-Step Roadmap to Landing High-Paying Freelance Writing Clients FAST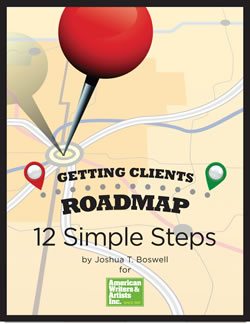 It's the number one question aspiring writers ask …
How on earth do I get started?!
You've probably asked that same question yourself. You're excited, you're motivated, and you're ready to start writing …
But how? How do you go from where you are now to a place where you're effortlessly landing high-paying freelance writing clients?
The answer is simpler than you might think. You just need someone experienced to walk you through the steps.
Joshua Boswell's proven 12-step Getting Clients Roadmap shows you exactly what you need to do to start landing good-quality clients, quickly and easily. And anyone can follow Joshua's plan.
In fact, you don't need ANY writing, business, or marketing experience at all to follow these 12 steps and get high-paying freelance writing clients …
All you really need to know right now is these three things:
You want to live the writer's life …
You want to get paid to write sooner rather than later …
And, you want a proven, automated system that can bring you clients for life.
If you answered Yes! to all three, then this system will be a perfect fit. It's the exact same 12-step process Joshua Boswell used to build his success … and hundreds of aspiring writers have used it to build theirs …
There's absolutely no reason you can't be next.
Joshua's Getting Clients Roadmap works for total beginners … even writers who have zero experience in the freelance writing market.
With this system, you'll learn:
How to identify your strengths and leverage them for the most income-earning potential.
How to choose a niche that taps into your strengths and has plenty to offer in the way of good-paying freelance writing clients.
How to design a marketing plan that is perfectly suited to you.
How to make first contact with a potential client.
How to close a deal and land a project.
And so much more!
This program has everything you need, broken down into easy-to-follow steps, each tested and vetted by Joshua Boswell and hundreds of other aspiring writers just like you. Start your journey to success today.
Getting Clients Roadmap: $297.00
For More Information, click here …