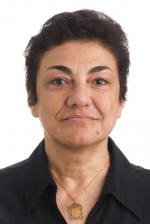 Aida Hidayah

Germantown, MD
Copywriter, Researcher, Travel Writer
B-to-B, Health, Self-Help, Web/Internet
I have no medical degree, nor do I diagnose medical conditions. However, it has always been my passion to help people know how herbal and natural resources can help them improve their health and strengthen their immune system, the backbone of a strong body.
Truth is the world of medicine is full of very good practitioners with the good intention of giving the very best care possible. Unfortunately, there are also those who only care about their bank accounts. We are all targets for those who have a stake in seeing a new treatment or medication invade the health market.
I'd like to tell you more about home remedies. Some herbs and spices have impressive benefits and can keep you healthy without side effects … they're completely safe to consume. Old civilizations (Egyptian, Chinese, Greek, Indian, Mayan, etc.) have used them for thousands of years.
Work aside, I love visiting exotic places. I also love to gorge on fine fiction and good detective stories where I race to uncover a clue that inevitably leads to 'whodunit.' Word puzzles are a favorite pastime when on the road. However, definitively, classical music, fine dining, and light exercise are my companions through life.