Meet AWAI-Trained Writer: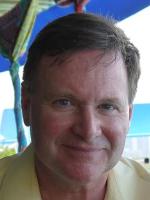 Colin Noden
| | |
| --- | --- |
| Location: | Ottawa, Ontario |
| Professions: | Copywriter, Researcher, Travel Writer |
| Specialties: | Financial, Health |
Professional Background:
Direct Response Copywriter & Strategist
Financial Kudo from Clayton Makepeace:
"The way that you explain the dynamics of bonds and interest rates is the best I've seen actually. It's really very good. An 8th grader can easily understand this. You have a real gift for simplifying complex subjects, and it is a gift you need to cherish and nurture… the way you tell the story altogether is also really very strong... Great job on simplifying a very complex subject."
Health Kudo from Dr Jamie Gallant ND:
I've had the privilege of knowing Mr Noden for the last 15 years. Over the course of my education and 10 years of practice we have had many discussions about health care and the use of various alternative therapies. Colin is very knowledgeable about supplementation and the current market trends and also has been exposed to many forms of alternative treatment over the years. His knowledge is very rare for someone who doesn't currently hold a medical degree in alternative health care.