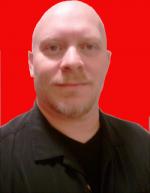 Joseph Jonas

Manitowoc, WI
Copywriter
B-to-B, Health, Self-Help
- Bachelor of Science: Sports Management (University of Wisconsin- La Crosse)
- 12 years experience in Health/Fitness industry (personal trainer, membership sales, marketing, event coordinator, and health club owner/operator)
- 10 years experience in healthcare Loss Prevention (officer, sergeant, supervisor)
- 8 years experience as a certified trainer in Mangaement of Aggressive Behavior, Defense & Arrest Tactics, and Combat Hapkido.
- 2013 to present: direct response copywriter (sports, health, security related informational products/services) (AWAI trained)
- Member of AWAI Circle of Success program and Professional Writers' Alliance.
- Author of Arbor – The Unity Series.
- Passions: most sport, health, and recreational type activities.
- Loves: Spending time with my two children.
The way I think and the way I carry myself has earned me the nickname, "Security Joe".