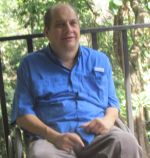 Tony Boatright

Penonomé, Panama
Copywriter
B-to-B, Web/Internet
My diverse education and experience always included extensive writing.
EXPERIENCE:
> Corporate Paralegal:
Georgia Power Co, corporate compliance including ADA (Americans with Disabilities Act) Title III implementation.
> Management:
disAbility Link Center for Independent Living;
Durable Medical Equipment Company
> Business Consultant:
Cybernetic Heroes, owner for 10+ years. Focused on assisting developing businesses.
> ADA Consultant:
State of Georgia;
City of Atlanta;
Piedmont Park Conservancy;
Other volunteer services for numerous public and private organizations.
> Freelance Writer:
Numerous articles, essays and other documents published in magazines, newspapers and websites.
Also, various business and legal documents provided for clients.
EDUCATION:
University of West Georgia
National Center for Paralegal Training
American Writers and Artists Institute
SPECIALITY:
Education and information documents:
Newsletters, Articles, Case studies, Blogs
Web content
E-books, White Papers