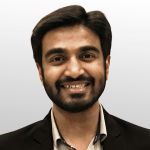 Nainil Chheda

Boston, MA
Copywriter
B-to-B, Fundraising, Health, Web/Internet
I help small businesses running on Main Street, USA, become successful (grow business, generate leads and get more out of their marketing dollars).
I am a Freelance Copywriter and Marketing Consultant.
What I like to do is write copy (✍ words) that make huge profits for my clients.
I can write engaging & persuasive copy for your:
✅ - Website
✅ - Blog
✅ - Emails
✅ - Sales Letters
✅ - Video Sales Letters (VSL)
✅ - Flyers
✅ - Brochures
✅ - Advertisements
✅ - Social Media Posts
► How Am I Qualified?
My background is in Procurement and over the past 12+ years I have helped businesses save millions of dollars.
As an expert in Procurement & Negotiations, I have educated myself to learn everything I can about "The psychology of Selling" and "Marketing". This gives me the upper hand during negotiations.
► Books Written https://www.amazon.com/Nainil-Chheda/e/B00GKN96EW/
Lets connect for a FREE 🎁 30-Minute Marketing Assessment of your business.
Call or Text 267-241-3796 Today!