Meet AWAI-Trained Writer: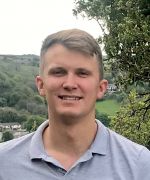 Professional Background:
Hi, my name is Callum Birch. I'm a marketing consultant, direct response copywriter and author of The Ultimate Guide to Nutritional Supplement Advertising.
Before becoming a freelancer, I worked as a Digital Marketing Manager, and my role was to develop marketing funnels that generated leads and sales.
Earlier in my career, I worked as a diagnostic radiographer and health researcher. Although I didn't realise it at the time, the experience gave me a strong understanding of what motivates supplement consumers.
As a researcher, I worked in a prestigious musculoskeletal research team at the University of Oxford and published multiple peer-reviewed journal articles.
As a result, I can quickly get to the meat of medical research and find unique angles from which to sell nutritional supplements—without breaching FTC and FDA regulations.
To request a free, no obligation information packet on how I can help, please contact me through my website.