Meet AWAI-Trained Writer: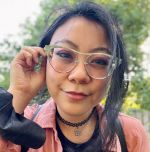 Editha Ripoyla
| | |
| --- | --- |
| Location: | Stockton, CA |
| Professions: | Copywriter, Social Media Expert, Desktop Marketer |
| Specialties: | Health, Self-Help, Web/Internet |
Professional Background:
From Dan Lok's Copywriting program to AWAI's courses to hone in on the fine details... I have to say its been so much fun learning about new fields in the world!
Professionally I've worked with Succulent Nurseries, Web designers and Construction Companies. However, I've worked in the Health and Wellness field all my life.
Growing up as a caretaker, working as Physical Therapist aid and eventually becoming a Massage & Stretch Therapist I'm a huge advocate for Self Care and Healthy Lifestyles!
I definitely appeal to a specific type of crowd...
The people who want things to change for the better.
The people soul searching for some type of shift in their life.
If you believe your product can change people's life for the better... I know how to convince them!
"It's time to go for it! This is it!!"
In long or short form ;)
P.S.
I have much more experience with emails and social media, but let's go over what you need... And I'll let you know how fast I can get it to you.