Meet AWAI-Trained Writer: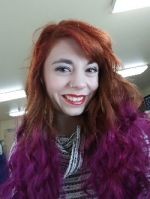 Professional Background:
I am and have been a licensed cosmetologist for over a decade.
During that time, I did retail buying, backbar buying, operations managing, content writing, and, of course, hairstyling!
After writing for others and honing my skills for 10 years, I've gone into freelance copywriting.
I specialize in a down-to-earth, approachable, and conversational writing style.. just like I used in my successful salons.
Most of my work and training falls into the B2B category, but I love B2C as well.
My experience makes me the "ideal customer" so many beauty industry clients are trying to reach.
I've purchased your products, seen your ads, subscribed to your newsletters, and frequently engage with your other prospects & existing customers.
Let's discuss your next project to see which benefits this freelance professional beauty copywriter can offer you!