How to Make Great Money as a Writer from the Publishing Industry's "Worst-Kept Secret"!
It's been going on forever…
And the market is FAR BIGGER than you probably know — especially when it comes to business and self-improvement books.
I'm talking, of course, about ghostwriting…
The long-practiced art of taking a leading expert's unique knowledge… and putting it into book form.
And it's BIG, BIG, business!
Millions upon millions of business owners, CEOs, executives, thought leaders — even bloggers — can build their brands, establish authority, and drive sales by having their name on a book…
But most don't have the time, experience, or even desire to write them!
That's where the ghostwriter comes in.
A writer-collaborator like you who's learned the simple five-step process to ghostwriting a book…
Who can take all that knowledge and organize it into readable prose on their behalf…
And command those big paydays skilled ghostwriters are known to earn… anywhere from $20,000 to $70,000 (and more) per project!
Better still is the sheer size of your potential client pool.
It's estimated that tens of thousands of business-related books are produced every year.
Some are through traditional publishers…
Others are self-published…
Many are "print on demand"…
Still others are created as lead generators, primarily for customers and potential customers within specific industries.
But here's what's shocking…
Although there are no "official" stats since many ghostwriting arrangements are anonymous, industry insiders estimate that…
As many as 70% of those books are written by ghostwriters!
That's why, with a solid foundation of ghostwriting knowledge…
Some experience and success behind you…
And a market this massive to draw from…
You could make great money — AND have writing projects "in the hopper" for the entirety of your writing career!
And it all starts with How to Become a Sought-After, High-Income Ghostwriter — an all-new self-paced training program from AWAI and one of the top ghostwriters working today — Laura Gale.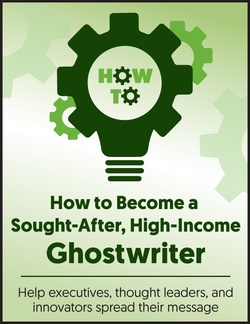 Laura's written, advised, and collaborated on dozens of books for business leaders, including bestsellers like The Amazon Expansion Plan (Kiri Masters), Click Happy (Molly Pittman), and dozens more.
How to Become a Sought-After, High-Income Ghostwriter teaches you everything you'll need to know about ghostwriting a book…
From determining your book's North Star and reader avatar…
To building an outline, interviewing subjects, writing, and editing…
Even insights into prepping a manuscript… filing for ISBN numbers… self-publishing… traditional publishing… marketing and promotion… and more!
Also, if you've ever wanted to write a book of your own — there's no better "first step" experience you can get than ghostwriting a book for someone else first!
So if you're ready to explore the fun and lucrative world of ghostwriting — there's no better place to start than with Laura's comprehensive training found in How to Become a Sought-After, High-Income Ghostwriter!
How to Become a Sought-After, High-Income Ghostwriter: $497.00
For More Information, click here…