The "Secret" Shortcut to Success
How to Start Making Money Before You Even Finish the Graphic Design Success Program
Dear Reader,
You already know the many advantages that the freelance designer's life can give you … money, self-employment, working from home, no commuting, flexible hours …
But now imagine making money right now before you even finish the Graphic Design Success program.
My name is Mike Klassen, and like you, I'm a graphic designer. I started AWAI's Graphic Design Success program back in 2004 and have since been able to quit my job and run my own successful freelance design business.
Back when I got started as a direct-response designer, every newcomer pretty much had to reinvent the wheel. We all worked hard, we all studied winning promotions, the examples in the "Hall of Fame" book and – eventually – we each created our own set of design templates.
We built these templates from our best packages, refining them as we found tricks and techniques that helped boost sales.
As you can imagine, having a set of proven templates significantly cuts the amount of time you need to lay out new projects. And this is especially effective in direct response, where most promotions are created using just a few basic styles.
But here is the good news: you don't have to go through the drawn-out process of developing your own direct-response templates from scratch. You don't have to start out at square one like I did, wondering if your designs would be winners.
That's because master designer Lori Haller has decided to share her own proven design templates for the most-popular, most-often-mailed promotional packages – the ones that have won her control after control after control.
AWAI is calling it the Drag-and-Drop Design Series. And it's this simple:
Just open up one of these pre-fabbed templates in Quark, grab your client's copy, and drag and drop it into place … then give your client a polished, ready-to-mail piece!
Recently, Lori worked with AWAI to create a complete set of her templates – a comprehensive "Design Library" of every single type and size of promotion out there. But, for the first time ever, AWAI is offering you a chance to get the most popular one – her complete #10 package – a la carte.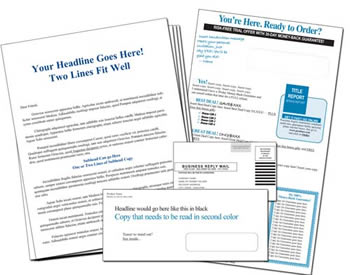 This includes templates for five variations of #10 envelope layouts … a sales letter that can be adapted for a 1- to 12-page promotion … two lift letter options … a buckslip … and an order form.
Imagine having access to a set of proven designs. Proven through Lori's 20+ years of real-world experience. And you know that Lori's designs are the gold standard in direct response. She's the one everyone wants to be like!
Lori's designs make getting started in direct-response design almost foolproof. They're the basis of her six-figure annual income. And I can tell you this: If I'd had these templates when I was just getting started, I'm sure I'd have reached six figures a lot sooner, too.
While Lori's designs leave plenty of room for customization, they'll cut hours off the time you'd normally need to lay out a new direct-response project. And cranking out more work faster means more money in your pocket.
And there is plenty of room to apply what you've learned from the Graphic Design Success program. For example, you can easily adapt the template to an 8-page sales letter for a health promotion or a12-page letter for a financial publication.
Earn More Money Faster – Or Your Money Back
Lori Haller has been one of the top designers in the direct-marketing industry for 20 years, and was recently chosen to do the design for the direct-mail promotion for Oprah Winfrey's third book.
The biggest mailers in the industry gladly wait months for her to get to their projects. Big names like Agora Publishing, Boardroom, Forbes, Hyatt, INTUIT, Louis Rukeyser, The Motley Fool, National Geographic, and Soundview Publishing, to name a few.
She has also been working with AWAI members – both copywriters and designers – for the past 6 years. She sits on the AWAI Board of Advisors, and is the author of The Ultimate Guide to Building Your Highly Successful Design Business , and the 3-part design teleconference Boost Your Design Career in 3 Short Hours .
Lori knows firsthand how hard you've worked to get your practice up and running, how committed you are to succeed, and that you need real business solutions, not more to do and more to learn.
That's why she initiated this revolutionary template project – and handed over some of her best work, so it can be tailored to suit the needs of your clients.
It's the fastest possible track to increasing your income with a minimal amount of time and effort.
I wish Lori had decided to share her templates a few years ago. I've had a good look at them, and I know I'd have earned a lot more money a lot sooner if I'd had these templates back when I started. They'd have cut a ton of time off my learning curve.
In fact, I'm so sure they'll work for you, that I've talked AWAI into making you this offer:
Try the Drag-and-Drop Design Series #10 Template for 30 days. If you're not happy – for any reason – just let AWAI know and they'll refund your full purchase price. No questions asked.
But before we go any further, let me sweeten this deal for you …
Get Over $1,200 Worth of Bonuses – FREE!
You see, Lori's #10 template is just part of this special offer. You also get these three bonuses absolutely FREE:
Bonus #1: Lori Haller's Personal "Best Of" Design Elements Library
First, there's Lori's Design Elements Library. These are 20 of her favorite – and most effective – design elements. Arrows, margin notes, starbursts and other elements that she's perfected over the past 20 years.
These design elements add a very "personal" touch to Lori's promotions, and they really boost sales for her clients.
Most direct-response designers guard their "special" elements jealously, but not Lori. She already has more work than she can handle, so she decided these would make the perfect bonus to compliment this offer.
I've seen design elements like these selling for $20 - $200 apiece. And Lori said she'd ask – and she could easily get – at least $499 if she were to sell these as a set.
But they're not available for sale … to anyone, at any price. With this special offer, you can have all 20 of Lori's design elements for FREE. It's AWAI's way of saying "thank you" for trying out the Drag-and-Drop Design Series.
Bonus #2: AWAI's Template Reference Guide
If you're a graphic designer like me who snatches up anything he can get his hands on about direct-mail design, you will love this comprehensive (almost 400 pages) reference guide. This guide not only reveals some of the most important secrets of direct-response design, but also the secrets behind some of Lori Haller's biggest winners. You will also learn how to use the QuarkXPress software in easy bite-sized sessions.
Here are just a few of the direct-response success tips you'll uncover:
How your designs influence the three main reasons people read direct mail. (Section 1:4)
A simple trick that uses footers to increase sales. (Section 2:11)
How to create designs that sell – even when many prospects won't read your promo! (Section 1:7)
When to use "old-fashioned" half-inch indents to make your design's sales soar. (Section 2:7)
How to boost your sales with color. But if you use the wrong color in a design, sales could tank. (Section 2:19)
Why you'll sell more by designing less. (Section 1:9)
The column and margin settings that have been proven to sell the best. (Section 2:3)
A counter-intuitive design trick to design winning magalogs. (Section 1:6)
A proven layout for making your magalogs more successful. (Section 2:5)
How to bump sales up by "breaking the rules" of graphics placement. (Section 4:17)
How to make a sales letter come across like a newsletter or magazine. It's not in the copy … it's a design trick. (Section 2:5)
Six things to consider before starting any direct-response design job. (Section 2:1)
How to use a two-color design to beat a full-color design. (Section 3:8)
A design element you should use freely in your magalogs – it's been proven to boost sales. (Section 4:4)
Plus, Lori describes some of the tricks she used to design winning promos for Health & Vitality News and Shoestring Millionaire. (Section 3:17 and 3:18)
And much, much more!
AWAI could easily sell this 78-chapter electronic guide for $399 or more. But it's simply not for sale. However, you get it FREE with this special offer.
Bonus #3: 4-Part Web Tutorial Series with Lori Haller
AWAI believes that showing is better than telling. That's why they've agreed to include a series of four web tutorials with this offer.
You'll join Lori Haller in her studio and learn how to get the most out of your templates in a relaxed and stress-free way. You will be surprised how easy it really is to use these templates! Here is what's included:
Session 1: Getting Started

You will learn how to open and save your templates. After completing the session you will be able to create new files and use the QuarkXPress tools and menu bar.

Session 2: "The Meat and Potatoes" – Working in Your Templates

You'll learn how to change fonts, create text boxes, link your copy and make edits.

Session 3: Color and Images

You'll learn how to add color and images to your design.

Session 4: Saving Your Files for the Client Or Printer

You'll learn how to save your files as PDFs and prepare them for your clients and the printer.
AWAI could easily sell these tutorials for $100 per session.
That's nearly $1,300 worth of bonuses … just for giving the Drag-and-Drop Design Series a try!
The best news is, AWAI is offering the Drag-and-Drop Design Series: #10 Package at such a reasonable rate, you're likely to make back what you invest the very first time you do a project with it!
You can charge anywhere from $1,000 to $3,500 to design all the elements of a #10 promotion. Or you can charge in smaller increments: $750 for a sales letter, $500 for a lift letter, $50 per envelope design.
Many top designers charge several times these amounts.
So to make sure you're able to start benefiting from these templates as quickly as possible, AWAI is offering you the Drag-and-Drop Design Series: #10 Package for just $399 .
And, of course, if you decide this isn't the fastest path to easy money for you – just let AWAI know within 30 days and they'll give you a full refund of your purchase price.
Try the Drag-and-Drop Design Series: #10 Package today … and boost your design career to the next level!
Click here now or call Member Services at 866-879-2924 during regular business hours.
Regards,



Mike Klassen
Klassen Communications

P.S. Don't forget! You will get not only Lori Haller's Design Elements Library and AWAI's comprehensive Template Reference Guide, but also a 4-part audiovisual tutorial series where you'll join Lori in her studio and learn how to get the most out of your templates. You will be surprised how easy it really is to use these templates!
P.P.S. One last thing … about Quark. If you don't have it already, you can get it for a 30-day free trial. Complete details will be provided in your welcome letter. That way you won't spend a dime just to try it out and start racking up extra income right away!