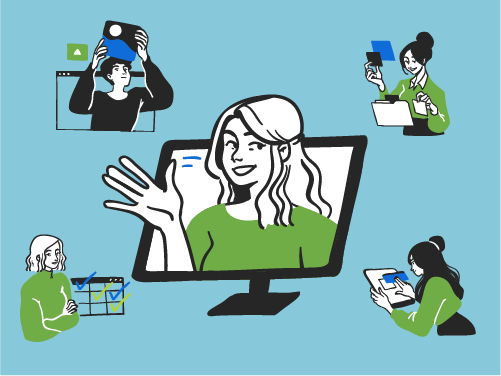 How to Make Money Blogging: A Beginner's Guide
Welcome to How to Make Money Blogging: A Beginner's Guide!
Whether you're a freelance writer who wants to blog for clients or want to start a blog of your own, this guide will show you fun, simple, proven ways to make money blogging.
Not only is this guide eye-opening… but it's also become almost essential if you're part of the information economy (i.e., exchanging money for words).
Think about it… We live in an information age. As such, blogs have become one of the most popular and effective ways to share information — and they're relevant to a huge range of topics!
You can blog about everything under the sun — from knitting sweaters and baking pies to auto-mechanic parts to geological finds in Africa.
Truly, any topic can be turned into a blog. And most any topic can lead to you making money blogging. But there are some key indicators that can help you figure out from the get-go whether your blog will bring in the bucks or turn into a quiet side hobby.
We're here to talk about bringing in the bucks, though.
So without further ado, let's dive into why and how blogging is virtually the perfect career for writers today, and how anyone from experts to beginners can pretty easily — and quickly — start to make money blogging.
Yes! Blogging Really Is as Good as It Sounds. Here's Why…
You pretty much know what a blog is, right? But just to make sure we're on the same page, the "formal" definition of a blog is:
A website or webpage that regularly publishes content related to a specific topic.
Simple, right?
And that's part of the charm behind a blog in the first place. It's not complex or mysterious. The term "blog" itself is just a combination of the words "web" and "log" — because way back in the beginning of the internet, websites "logged" the thoughts and experiences of the people who wrote them.
Pretty much nothing has changed. Bloggers today are just writers who share their thoughts and experiences on a particular topic. Sometimes they throw in personal advice and expert knowledge.
At the end of the day, though, it's just a log of your thoughts and opinions.
That's true for independent blogs, anyway.
These days, the landscape of professional blogging has changed to include more than just personal blogs published by one writer.
Many businesses and professional service firms have a dedicated blog as part of their website. These typically include blog posts by a variety of authors that delve into a range of topics related to their specific industry or area of expertise.
Blogs can also serve a much larger purpose than simply sharing information. Whether it's created by a large company or a single blogger, a blog is a great way to…
connect with your audience and learn what they like and what information they're looking for,
test out different types of copy and topics, and otherwise hone your message for your audience,
generate leads,
attract website traffic,
and build authority in your field.
All of which makes a blog a great tool for advancing professional goals. But keep in mind that a blog is only a tool…
"The blog is only ever a lead generation tool and a credibility and brand building tool… it's all those things but it's not what you sell." —Danny Iny, founder of Mirasee
It's important to understand that a blog is only one part of a company's overall marketing strategy.
Contrary to what a lot of new writers may think, the actual moneymaking parts of a blog aren't the blog posts themselves.
That's just the writing. The place where the connection happens. The avenue by which thoughts are shared and devoured.
But the clicks that bring the money are an entirely separate topic. (We'll cover the specifics of how blogs make money in Chapter 5.)
Why Is Blogging Such a Great Opportunity?
So you may be wondering…
How did blogging go from a simple haven of "web logs" to this massive industry attracting people from all backgrounds around the world?
Because there's no denying… blogging is still a rapidly growing industry — even though it's been ballooning for years!
Consider this: As of 2021, there were an estimated 570 million blogs on the internet, with around 7 million blog posts being published every day. By comparison, only an estimated 173 million blogs existed in 2011.
The number of people using the internet is also growing every year.
In 2009, marketing and consumer data company Statista estimated that approximately 1.8 billion people around the world were internet users. In 2020, internet users numbered as many as 4.8 billion people.
That means internet use grew by 3 million people in just 11 years!
Considering that 77 percent of internet users regularly read or subscribe to blogs, that translates to a massive potential audience for both business and personal blogs.
However…
You also need to get noticed beyond the noise. Because 570 million blogs is a lot of competition!
Or is it?
The answer is no, it's not.
Your odds of getting to successfully make money blogging are huge, because a ton of those blogs are simply not good.
Or they aren't consistent.
Or they aren't even remotely related to the topic you want to blog about.
So the opportunity is there, and it's big.
You just have to learn the specifics of turning a fun and easy hobby into a lucrative, long-term income stream.
Where's the downside?
Really, there isn't one. It's actually kind of surprising that everyone isn't writing a blog these days (though sometimes it may feel like they are!).
Fact is, blogs are fun to write. So their popularity as an income-generating tool isn't surprising. They're fun and casual. You get to write about topics you're naturally interested in.
And it's not actually that hard to flip those interests into income streams, given the right approach with the right application. Keep in mind — this just refers to new blogs and beginners who want to make money blogging.
It's also easy and fun to write for the existing blogs of all those businesses and professional service providers we talked about — and in those cases, you don't even have to worry about setting up an income stream! (Because you'll most likely be charging a fee if you write a blog for someone else.)
At any rate, whether you want to start your own blog or write for clients, the demand and opportunities for professional bloggers has never been higher.
And when we say "easy," we mean it! The writing itself is short and conversational.
And the technology part, in case that has you worried, is pretty simple too. Whereas the early days of the internet had new bloggers scrambling to learn coding and web languages, nowadays you simply need a template to plug your writing into.
We'll talk more about this in Chapter 2 on creating your own blog, where you'll find that the "tech" aspects of blogging have become much more affordable and user-friendly over time, even for beginners.
Finally, these days there are loads of different techniques for making money from a blog — everything from affiliate marketing to selling your own information products.
Or, if you're a freelancer, you can take advantage of the rising demand for professional blog writers.
The Benefits of Blogging for Writers
Let's take a step back from the money for a moment, though, because becoming a professional blogger isn't all about money.
Blogging can also help your writing career in loads of other ways…
Whether it's writing your own blog or writing for a client, blogging tends to be very consistent. It's not a one-and-done project like writing a sales page or case study, for example.
It's consistent, too. Most blogs have a publishing schedule where they add new blog posts every month, week, or sometimes even every day.
This consistency makes it easy for you to hone your writing skills on an ongoing basis. You'll become increasingly knowledgeable about your topic, and you'll discover what resonates with your audience.
In turn, you'll write better blog posts.
You'll also be able to experiment and see what tone of voice works best with your audience, as well as whether shorter or longer pieces are more effective.
Writing consistently will even help you boost your writing speed. (As the saying goes, there's nothing better than a deadline to make sure you hit your desired word count!)
About How to Make Money Blogging: A Beginner's Guide
This guide is for anyone who's considering becoming a professional blogger, including writing for yourself or for clients.
How to Make Money Blogging: A Beginner's Guide covers everything you need to know to decide whether blogging is the right path for you.
Blogging is a huge opportunity right now, with no signs of letting up. It's also a skill that can be easily learned. And, take it from us: You don't need to be a "born writer" or have any background in marketing to excel as a blogger.
You just need to want to move forward with this goal!
This guide takes you through all the steps necessary to succeed in this exciting industry.
Discover 347+ Lucrative Blogging Ideas to Start Your Journey as an In-Demand Blog Writer
Sign up to receive 347+ Lucrative Blogging Ideas instantly.
What You'll Learn
How to Make Money Blogging: A Beginner's Guide has five chapters. Each chapter takes you through the important steps of becoming a professional blogger, from learning how to write a great blog post to how to monetize a blog.
The chapters are organized in a logical way to build on each other, but you can read them in whatever order you like.
If you have any questions about blogging or anything else as you go through this guide, don't hesitate to contact us. We'd be happy to share any further information and help you explore your options as a future blogger.
And if you decide to jump in and become a professional blogger, please let us know. We would love to learn more about you and your journey!
YOUR NEXT STEP
>
AWAI's Bestselling
"Make Money Blogging" Program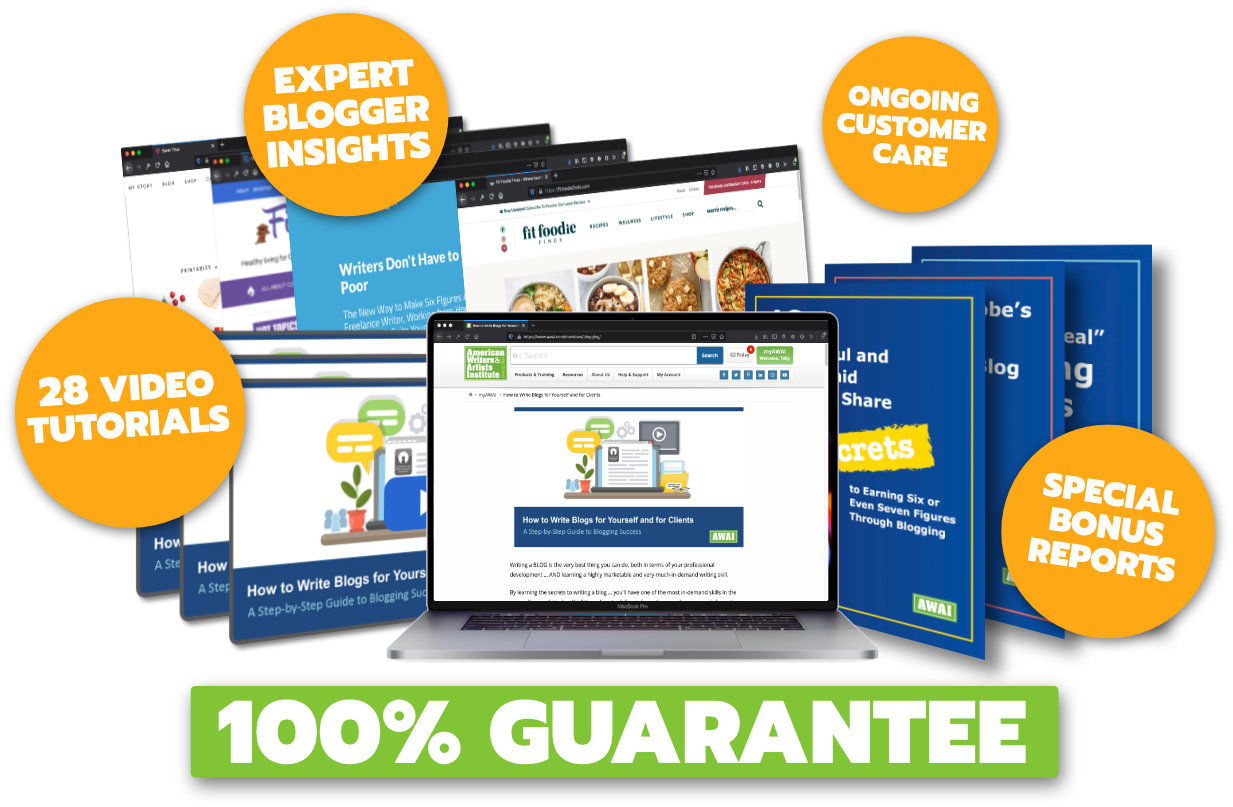 EVERYTHING you need to make great money writing blogs is included…
How to write blogs people actually want to read…
What to write about…
How to connect with the countless businesses that desperately need writers like you to keep their blogs relevant and current…
How to make money writing your own blog…
It's… all… in… the… program!