Thank You!
Your Registration Has Been Processed for:
AWAI's Great Books Club
---
Because You Appreciate Great Books,
We Think You May Want to Check this Out …
Three Strategies You Can Use Immediately to Become a More Effective Copywriter and Make More Money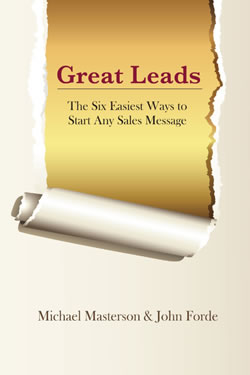 "If you are a copywriter intent on improving your skills, don't read this book … memorize it."

This is how Michael Masterson and John Forde begin their groundbreaking book Great Leads: The Six Easiest Ways to Start Any Sales Message.

Inside the pages, you'll learn how you can ratchet up your copywriting by learning the six distinct types of leads and how to write and use them effectively.
But just as important, the book reveals three strategies few copywriters know or understand that you can start using immediately to:

Become a more effective copywriter
Write faster with improved results
Be more in-demand
Earn more money
Entertainingly written and packed with concrete, real copywriting examples, this guide to successful copywriting will radically change the way you write all types of promotions: Sales letters. Email campaigns. Space ads. Even TV ads and infomercials.
Your ads and promos will outperform anything you've written before. And, you'll outperform other copywriters — because your prospects will read and pay attention to your words with a high level of interest and excitement.
Get started today on being the best copywriter you can be … and better than 95% or more of other copywriters…
Order Great Leads: The Six Easiest Ways to Start Any Sales Message