Jerry Bures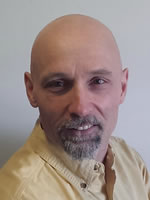 In what year did you first join the AWAI program?
2009
What's your current occupation?
Freelance Copywriter, Parenting Coach
What's your former occupation?
Air Systems Engineer
What was the first project you landed?
My first project was writing a short article for a natural health blog. It came as a direct result of striking up a conversation with a marketer at my very first AWAI Bootcamp & Job Fair.
What are your current projects?
Currently writing long form sales letters and other copy for an online natural health publishing company. Also, working on authoring my own very first book on parenting!
What has been your proudest copywriting moment?
Getting that first email saying I'd beat the control with a nearly 150% lift in sales!
What's your favorite niche to write for?
Natural Health & Wellness
What's your writing routine?
Routine? What routine? I love the flexibility of freelancing, it works great with our crazy family dynamics. However, my favorite routine would look something like this, and I stick as close as I can to it.
I wake up at 5:15 AM, meditate for 15 minutes, then write until 7:30 AM.
My exercise routine and breakfast takes me until 8:30 AM, write until noon, then again from 12:30 PM until 4:30 PM.
I kind of wing it on evenings and weekends, depending on workload and personal projects.
Please give us an example of how your life has changed since becoming a copywriter.
Specifically, becoming a freelance copywriter has taught me that being an entrepreneur is the closest thing to freedom in this life. It's made me more accountable to personal success … accommodates my family's need for a flexible work schedule … and opens up opportunities to explore multiple streams of income.
What success tip would you like to share with your fellow writers?
Persistence pays off. Look, if this farm boy from the Upper Midwest without any sales or marketing background can figure out this business … anyone can! The writer's life isn't easy nor does it necessarily happen fast. But it most definitely CAN happen!
When did you realize you were living the copywriter's life?
Twice my employer put me on temporary leave when work dried up. After the second time, I declined to come back. Ever since then, every time my wife headed to the hospital with our special needs son for an emergent and usually extended stay and I stayed home with our other 4 kids … it was such a sweet sigh of relief knowing I had that flexibility to do what needed doing.