Marianne Foscarini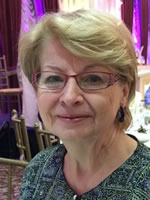 AWAI Member Since: 2010
What's your current occupation?
Grandmother and Christian copywriter
What's your former occupation?
Journalist and Financial services representative
What was the first project you landed?
A website analysis for a human resources consultant. I simply picked up the phone and called someone I knew and asked if I could do his website analysis. He jumped at the chance and afterwards had me rewrite all of his website. This is something anyone can do … offer free analysis, but charge for your rewrites.
What are your current projects?
Website content for a nonprofit Christian organization. Email series and landing page for a Christian information marketer, guest blogging for Wealthy Web Writer. Rewriting self-promotional materials.
What has been your proudest copywriting moment?
It's when I get "Wow!" from customers. It proves that all my hard work and training have been worth it.
What's your favorite niche to write for?
The Christian market. This is still very broad, so recently I've been steering towards the Christian financial consultant and debt counsellor niches.
What's your writing routine?
My normal time of getting out of bed is between 4 and 5 a.m. It's not something I planned, it just happens. I always start my day with a fresh cup of coffee in one hand and my Bible in the other. Then I focus on my freelance writing business for about three hours.
First, I look at my "Daily Folder" where I keep an Excel file for my current 90-day plan. I check my to-do list I made the night before to remind me of priorities for the day. My Google calendar records my appointments and important reminders … it's synced to my mobile phone. I jot down notes by hand through the day as ideas come to me.
Priority # 1 Note where I am on the 90-day plan and commit to today's work to stay on track, but later in the afternoon while granddaughter is sleeping. (Or someone else is available to watch her.)
Priority # 2 Focus on customer project. This is an early morning task. If I have no project, I work on my 90-day plan.
Priority # 3 Network on LinkedIn and other social media as needed, but LinkedIn is a must … about 8 a.m. seems to be the best time. Again, at 4 p.m. Hootsuite.com sends out timed messages.
Please give us an example of how your life has changed since becoming a copywriter.
There is a strong sense of purpose each morning when I get up. I absolutely love what I am doing. If I were not a copywriter, my life would be entirely different with a mindset that didn't include travel and upgrades for the home. Today, I look forward to travel to AWAI's Bootcamps and Web Intensives. Plus, other travels that may or may not be related to writing … all paid for from my writing. I'm having dream renovations done around the home and sharing with friends and family more. But the best part is feeling like I have found my own personal niche in life. The writer's life is where I belong.
What success tip would you like to share with your fellow writers?
Just follow AWAI's programs and road map and you're on target for success, in my opinion. Getting a tightly focused niche is important, but more important is to get started and keep moving forward. You may not see your goals at first but they will materialize as you continue working out your day-by-day steps.
When did you realize you were living the copywriter's life?
I knew I was living the copywriter's life when I began getting good feedback on my spec assignments. Later, receiving regular project inquiries through my website, LinkedIn message, or by phone made me aware that others saw me as a professional copywriter. That is a great feeling.
Working around my own schedule, taking a day off when I wanted to have lunch with friends are bonuses … and planning another trip and paying for my sister to join me for a few extra days. That's the copywriter's life!