Sean McCool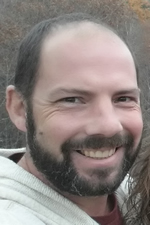 AWAI Member Since: 2003
What's your current occupation?
B2B and Financial Copywriter
What's your former occupation?
In In 2006 with just $26 to my name, I started a handyman business. And before that, I sold insurance, annuities, home improvement products and even knives. I delivered pizza, newspapers and flyers. I worked 3rd shift in a factory, waited tables and worked at a trade show display company just to name a few. And the good news is that as I move through my copywriting career, I believe all those experiences continue to pay huge dividends. And I believe whatever you've done will help you with whatever you do next.
What was the first project you landed?
An advertorial for a local in-home water treatment company. It took me about 8 hours to write a one page ad that looked like a community newsletter. They paid me $800 for that one page.
Better yet, it was the most successful ad he'd ever used in 16 years in the business. I think he said he ended up closing nearly $100,000 in sales off of that one ad. What we do as copywriters is worth every penny we charge.
What are your current projects?
Currently, I am a full-time Freelance Copywriter. After 5 years in the financial niche I now work in the B2B niche. I feel very fortunate to work alongside some really great copywriters that teach me something new every day.
I also offer personal coaching to high-achievers who know – and are committed – to being more in all areas of their lives.
What has been your proudest copywriting moment?
There are several … Being one of the winners of the 2008 Bootcamp Challenge (and again in 2010) was huge validation for me. Another was getting an email from a financial newsletter client and finding out I beat his control by 51%. And still another is the way I've been able to keep a B2B client for more than 3 years with new projects every single month because what I'm doing is making them money. I am a reliable profit center for my clients. That's pretty cool.
What's your favorite niche to write for?
B2B
What's your writing routine?
Probably shouldn't say this but it's true. I'm still figuring all that out. Truth is I've been successful because I hustle not because I have systems or set routines in place. Perhaps one day I'll get there but for now, winging it is working pretty well for me.
Please give us an example of how your life has changed since becoming a copywriter.
It's quite a switch from installing light fixtures, painting and all the handyman tasks I used to do.
I prooted my entire family and moved 600 miles for the opportunity to work on staff with the writers at Stansberry. Now we're back in Tennessee and I live in a beautiful house, drive some pretty nice cars, and am the master of my own time. I set my schedule and for the first time in my life, I'm able to give my family both what they need and a whole lot of what they want – both things you can buy and things you can't.
What success tip would you like to share with your fellow writers?
Commitment. Nothing happens until you're willing to truly commit to being a great copywriter. There is no step-by-step path. It's different for everyone. The only constant is that you must commit.
It was only 4 months from the time I made the promise to myself to become a full-time copywriter that I got the job at Stansberry. Now granted, I had laid some ground work up to that point. But had I not committed in October of 2008 to being a full-time copywriter by the end of 2009, I seriously doubt anything would have changed.
When did you realize you were living the copywriter's life?
When a check from a client -for more than I used to make in a month – was siting on the kitchen counter for a week because it didn't have to be at the bank to cover the bills. Another big moment that I get at least once a week is the realization that in more than 5 years, I've never once not been able to fill up my gas tank. That's a pretty big deal for a guy who has been through bankruptcy in 1996 and lost everything - again - in 2003.
I'm still amazed every morning that I can work for several multi-million dollar companies and contribute directly to the bottom line even though I am a college drop-out. In fact, I failed English class in both 7th and 10th grade and was never more than a C student throughout high school.