Limited-Time Offer


Test Drive AWAI's Most Popular Program for $17!

According to countless studies and surveys, well over half of working people don't like their job!

And that's too bad, considering we typically spend one-third of our time either at or getting to and from it.

If you're one of those folks – or you're just looking for a new and fun way to make a good living – AWAI could have the perfect solution for you.

For a limited time we're offering a special $17 Test Drive on our most popular program, AWAI's Accelerated Program for Six-Figure Copywriting.

It's a great way to learn an in-demand skill that can pay you millions over your lifetime – while letting you live life entirely on your own terms. In other words, no bosses, no commute, no having to "be somewhere" every working day.

It's not like "work" at all!

Best of all, you can test-drive this program right now for only $17 … so you can see if it's for you or not virtually risk free.

But please hurry if you want to sign on for this deal. It's only open until Thursday, July 5th at midnight.
Work with the AWAI Team on a Real Writing Project!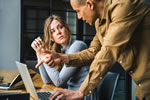 "Simulated Training" is AWAI's newest interactive learning where you get to work directly with AWAI's copy chief on a real writing project.
Not only will you experience what it's like to write for a real client — you'll learn what to do at every stage of the writing process … plus you'll get live personal feedback on your writing.
And right now, we're offering a limited number of spots FREE to members of our highest level of learning.
Go here now for full details …
Published: July 2, 2012