Blueprint for Landing Clients With Email

Ed Gandia here, at the helm of The Writer's Life. This week is all about landing top clients with less effort.
Today, I'll show you how you can use simple emails to get hired by high-paying clients.
Hopefully you had a chance to watch yesterday's video. In that video (full transcript included on that page),I showed you why "warm calling" with email is the way to go as far as marketing your freelance business … when you do it right.
In today's video, I get into a lot more detail. I show you my actual blueprint for generating hot leads by sending simple and short email messages to select prospects.
(Full transcript included + PDF Mindmaps for Prospecting and Blueprint)
Please post a comment to let me know what you think. Or post any questions you may have about this strategy. I'll personally reply to as many questions as possible.
Also, feel free to share the link with others (you'll find some social media sharing buttons on that page).
AWAI Badges Prove You've Got the Skills!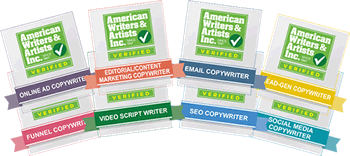 Learn to write 8 of the most in-demand copywriting projects (no sales letters!), and AWAI will verify you've mastered the skills.
You'll build up the confidence and knowledge you need to land clients. And have the samples and "Badges" to prove you've got what it takes.
Last spots remain — click here now for details!
Published: March 5, 2013