The Surprising Connection Between Great Acting and Copywriting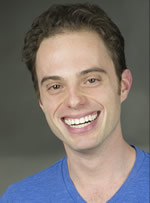 If you've ever watched a compelling performance from an actor on TV or in a film, you know firsthand how easy it is to become invested in those characters' lives. From Sally in When Harry Met Sally to Don Corleone in The Godfather – they draw you in and never let you go.
The thing is, for actors to reach that level, they have to do a lot of preparation.
There's a process in acting called scene study, where you break down a script and get to know it inside and out – the setting, characters, relationships, goals, etc … You get the full 3D picture of the world, so you can deliver a believable and unique performance.
As an example, Sherlock Holmes is a character we all know and love. However, no two performances of Sherlock are ever alike.
Today, Americans have "Elementary," a show set in modern America with a female Watson. British folk get the more "standard" Sherlock Holmes in modern-day London.
In both cases it's the same character solving crimes. However, in studying the different settings, characters, and relationships, each actor develops a dramatically different interpretation of the role.
And, how you prepare to write a piece of copy is exactly the same …
Think about it: every successful sales letter draws you in and holds your attention until the very end. It feels as if it's speaking directly to you, understands your dreams, ambitions, fears, and frustrations, and the world you're living in.
And, although all successful pieces are compelling, they aren't all identical. They are as varied as Hannibal Lector is from Forrest Gump.
The reason for this is the copywriter spends quality time researching all of the important elements related to the product they're trying to sell. In doing so, they grow to understand the product, market, and audience so well, they develop a unique voice and angle specific to that sales piece.
All of that work leads to a knock-out performance earning them big fees and lots of residuals.
And it can happen to you, too!
That's why this week I'll be sharing insider tips and strategies for how actors prepare for compelling performances, and how you can use those to gain an advantage in your copy.
So, the very first action step for this week is a fun one: re-watch your favorite compelling scene from a TV show or movie. Or, if you're feeling really adventurous, see a production of your favorite show live.
When you're watching it, think about the factors informing it. By that I mean the setting, the history and background of the place and people, and the characters' motivations for doing what they do. Write down your thoughts on a piece of paper.
Keep a hold of this, because we're going to cover all of these points throughout the week. And please be sure to share which scene you're watching and why in the comments section below. It'd be fun to hear your favorites!
Tomorrow, we're going to dive right into the first step in making your performance as a copywriter good enough for an Oscar.

The AWAI Method™ for Becoming a Skilled, In-Demand Copywriter
The AWAI Method™ combines the most up-to-date strategies, insights, and teaching methods with the tried-and-true copywriting fundamentals so you can take on ANY project — not just sales letters. Learn More »

Published: December 15, 2014