Achieve Your Goals Easily by Focusing on the Process, Not the Goal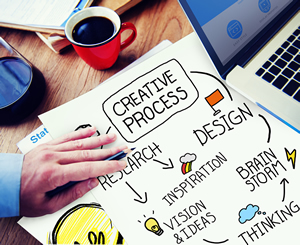 This week we're uncovering the process behind what made Jerry Seinfeld one of the most successful comedians of our time and how that process can help you achieve your copywriting goals.
So far, we've revealed that the process is about not breaking the chain, knowing the difference between activity and action, and not worrying about getting it right, just getting it written.
Today, I'm going to tell you to forget about your goal.
That's right, forget about your goal!
Let's say your goal is to finish The Accelerated Program for Six-Figure Coypwriting, and you think about that goal every day. It can be daunting and overwhelming, given all the other things you may have going on in your life.
If Jerry Seinfeld only concentrated on being the next great comedian, it would overwhelm and discourage him … especially when he had a bad performance.
But, when Jerry just focused on writing a better joke than the one he wrote before, the emphasis wasn't on the performance … instead, it was about "not breaking the chain."
Jerry fell in love with the process and not the goal. Knowing that, if he focused on the process and did what he needed to do within the process, the outcome of the goal would take care of itself.
Focusing on goals reduces your happiness now. When you're working toward a goal, you say, "I'm not good enough now, but I will be when I reach my goal." Or, "Once I achieve my goal, then I'll be a success, then I'll be happy."
These types of thoughts drain your energy and can be debilitating to your writing and creativity.
But, when you just focus on the process, you think about the one thing you can do now, instead of the goal of being a highly paid full-time copywriter – which can be overwhelming and paralyze you from taking action.
Let me give you some examples of a process within a goal …
I'm a runner. So, if my goal is to run a marathon, the process is my running schedule. I don't have to focus on running the whole 26.2 miles, just the miles I have to run that day in the process.
I'm also a screenwriter. So, if my goal is to write a script – about 110 pages – my process might be to just write one good page a day. Then, in four short months, I'll have a completed screenplay.
If you're working on The Accelerated Program, it might be to copy one great sales letter by hand every day … and soon, you'll have the "voices" of legendary copywriters in your mind, ready to use on paying projects.
By developing a process where you take action every day – no matter how small – and you complete that action, you start to build self-confidence. And, that will bring you closer every day to realizing your goal.
Here's another amazing benefit to just focusing on the process instead of the goal – you enjoy the journey!
Life is a journey, not a destination. Enjoy the journey more, and you'll love the destination more!
Are you enjoying your copywriting journey? I'd like to hear your comments. Let me know if today's article shed some light on how you can enjoy the now, while still pursuing your writing goals.
I hope you'll be with me tomorrow, when we finish up The Seinfeld Method …
I'm going to tie everything together and tell you how you can succeed, even when you break the chain.

The AWAI Method™ for Becoming a Skilled, In-Demand Copywriter
The AWAI Method™ combines the most up-to-date strategies, insights, and teaching methods with the tried-and-true copywriting fundamentals so you can take on ANY project — not just sales letters. Learn More »

Published: February 26, 2015