Breaking News! Mark Ford to Speak at Bootcamp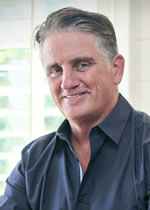 Mark Ford
Mark Ford — both as himself and as his pen name, Michael Masterson — has been an influential mentor for thousands of writers. As one of the original Founders of AWAI, he normally attends our annual FastTrack to Copywriting Success Bootcamp and Job Fair, but rarely takes the stage.
This year, we've convinced him to deliver a special address to Bootcamp attendees about living the writer's life to its fullest potential. Mark will be using his book, The Pledge: Your Master Plan for an Abundant Life, as the basis for his talk.
If you're not familiar with The Pledge, it reveals Mark's blueprint for you to reinvent your life and ensure it is full of wealth, health, happiness, and wisdom. The lessons inside are the same tactics and techniques Mark has used to build his own multi-million dollar career.
He'll be touching on his personal experiences with goal setting, translating intentions and hopes into tangible forward action, and finding peace with success. And, since every piece of advice and insight he shares will be specifically tailored for his fellow copywriters, you won't want to miss a word.
To hear Mark's special address, you'll need to claim your seat at the 2015 FastTrack to Copywriting Success Bootcamp and Job Fair now.
Only a few seats remain – and they're filling up fast.
Make your reservation to hear Mark – and all the other A-list speakers we've lined up this year – right here.

The AWAI Method™ for Becoming a Skilled, In-Demand Copywriter
The AWAI Method™ combines the most up-to-date strategies, insights, and teaching methods with the tried-and-true copywriting fundamentals so you can take on ANY project — not just sales letters. Learn More »

Published: August 12, 2015