A Daily Ritual You'll Learn – and Practice – at Bootcamp that Can Help You Learn How to Become a Copywriter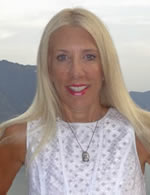 Annette Annechild
At AWAI's FastTrack to Copywriting Success Bootcamp and Job Fair you get world-class copywriting training from the best in the business … the chance to meet one-on-one with dozens of potential clients at the Job Fair … and the opportunity to network, network, network to make contacts at every level of the industry. It's the best place to learn how to become a copywriter.
But there are also more intangible benefits … You come out of Bootcamp with the confidence to kick-off your freelance career thanks to the encouragement you get from your fellow copywriters and the expert speakers. And you draw inspiration from the atmosphere at the event itself and what you learn that guides your freelance career for years to come.
To help you get the most out of your Bootcamp experience, licensed counselor and certified yoga and meditation teacher Annette Annechild will begin each morning's sessions with a meditation session. And don't worry if you've never meditated before. First there will be 10 minutes of instruction, then 10 minutes of silent meditation, and 10 minutes of guided meditation — no experience needed. The meditation will put you in a positive frame of mind for the day and make you even more ready to receive and retain all the event has to offer.
Annette is the creator of AWAI's meditation program, Accessing the Writer Within.
And the techniques she teaches can help you learn how to become a copywriter.
"Bootcamp is an environment of inspiration and encouragement coupled with the brass tacks of building a business out of a dream. If you really want to become a professional writer this is the place to get started or to renew one's self. The people, the information, and the networking are part of what makes Bootcamp invaluable."
Bootcamp, taking place this October 19-22 in Delray Beach, Florida, is the premier copywriting event of the year — a must for any copywriter seeking to take their career to the next level.
If you sign up for AWAI's FastTrack to Copywriting Success Bootcamp and Job Fair before July 31, you can save $500 off the regular price. But don't wait until then, as Bootcamp does sell out every year.
Get all the details here.

The AWAI Method™ for Becoming a Skilled, In-Demand Copywriter
The AWAI Method™ combines the most up-to-date strategies, insights, and teaching methods with the tried-and-true copywriting fundamentals so you can take on ANY project — not just sales letters. Learn More »

Published: June 16, 2016