🍁 October Issue: The Great Equalizer That Transcends Any Limitation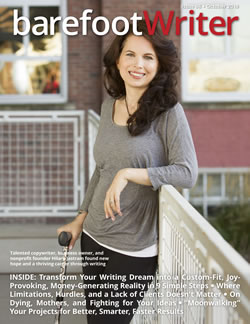 If you lost control over every aspect of your body, except your mind …
… would you still write?
That's what French journalist, author, and editor Jean-Dominique Bauby did. At age 48, he suffered a massive stroke that left his entire body paralyzed, save for one eyelid.
Bauby went on to write a memoir with help from an assistant who recited the alphabet countless times so Bauby could blink his eye at each letter he wanted to use.
It sounds incredible — and indeed, it is — but it's not an isolated case.
Although Bauby's experience was extreme, countless writers around the globe juggle illness, physical limitations, and various stages of disability.
And still, they write.
That's because writing is one of the greatest equalizers of humankind — especially in our current digital age.
As a profession, it's attainable by anyone.
It doesn't matter whether you're big or small, rich or poor, old or young, a college grad or a high school dropout.
Nor does it matter if you race in Ironman triathlons or use a wheelchair to get around.
We all start from the same place, in front of the same blank screen, with the same blinking cursor staring us down.
The one thing that does matter …
… is that you put your heart into it.
Because it's that persistence, that emotion, that tenacity, that will show through your words and blossom into paid assignments, time and time again.
To see that kind of writing in action, read your October issue of Barefoot Writer.
I'm honored to feature writers in this issue from a variety of backgrounds. Some have disabilities, some do not.
But all have discovered answers, passion, and hope through writing.
Click here now to read your October issue of Barefoot Writer.
Henry Ford once said, "Whether you think you can or you think you can't, you're right."
Hilary Jastram, our Featured Interviewee this month, put those words into action like no one I've ever seen. Late starts, closed doors, and a lack of answers couldn't keep her down … Read her moving story on page 9.
Ready to push past your own obstacles and take the leap toward achieving your writing dreams?
Because if you're serious about getting paid to write for a living, it's time to become a member of our Barefoot Writer Club. Along with your 12-month Barefoot Writer Magazine subscription, you'll get …
Admittance to the Barefoot Writer Private Facebook Group where your fellow writers actively explain how they're growing their businesses and share priceless advice (and readily answer those burning questions that might be holding you back!)
Unlimited access to all back issues (over 95 full magazines designed to help you write better, faster, and for more profit!)
Wild discounts on celebrated writing programs proven to move writers forward in their careers (and earnings) at lightning speed
Plus, access to seven groundbreaking reports on the quickest ways to launch and profit from the most rewarding writing business models …
Membership into the Barefoot Writer Club is literally the most enjoyable and absolutely PROVEN route I know to life as a paid writer: Join the Barefoot Writer Club today.
Published: October 5, 2019