Live

:


The Barefoot Writer November Issue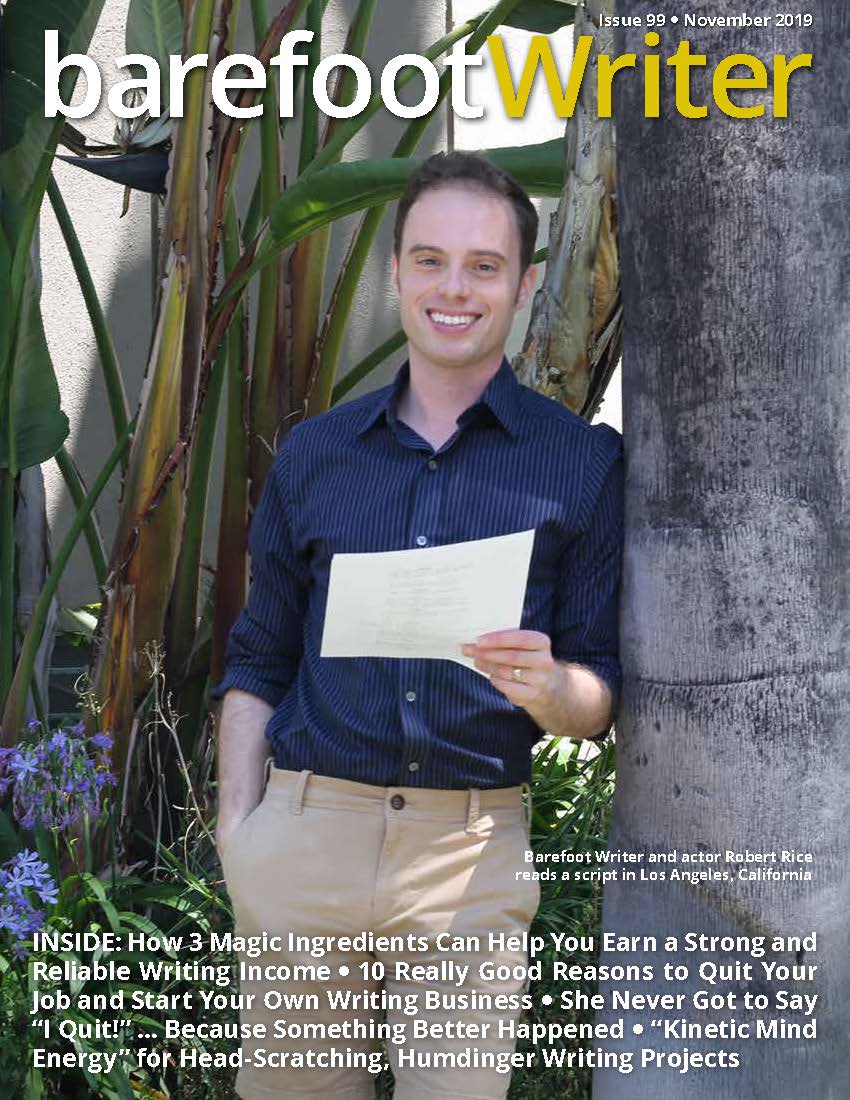 The kitchen counter vibrated with cheers as my husband somersaulted an English pancake onto a waiting red plate.
He'd recently been taught the secret family recipe a friend's Welsh grandmother had guarded for decades.
To my delight, those crepe-like, rolled-up, light-as-air flapjacks are now our Sunday morning habit.
Several weeks went by before I asked him about the magic ingredient. Would he give it up? Was it something I'd heard of? Cream of tartar? Vinegar?
He caved fast and clued me in on the most basic and boring of combos: flour, butter, eggs, and milk. Nothing else. Just in exactly the right amounts.
I was almost disappointed. How was it we were smitten with something so plain? So normal?
So un-secret-like?
Not that it mattered. The pancakes were just as delicious the next Sunday and the Sunday after that.
But it's a good example of how we crave complicated, unusual explanations for the best things in life … and that ultimately, the answers are often simpler than we think.
Writers do this all the time. We read about someone who's earning avalanches of money writing part-time from a teak captain's chair with a Caribbean view. We think, What's her secret? What does he know that I don't?
But the success of even the grandest, richest, most famous writers comes down to the simplest of things: perseverance, a proven formula, support, and practice.
This is good news, because all those things can be attained.
Meaning you don't have to be born with a natural writing gift or get a leg up from the inside.
Really, you just need to keep at it.
Balance those very basic components of writing success — the persistence, formula, support, and practice — and you can be just as successful, wealthy, happy, and free as any of the writers we've interviewed for Barefoot Writer.
Keeping your motivation up is the first step, and you'll get plenty of that from our November issue. This month includes pieces on
going from the brink of burnout to the best of both worlds …
how one writer ditched billable quotas and escaped to the City of Eternal Spring …
when freelancers shouldn't act professional …
the trick of using "kinetic mind energy" to get through head-scratching, humdinger writing projects …
and how three magic ingredients can help you earn a strong and reliable writing income
You'll get all that and more, plus get insight into the golden communication techniques that persist over time, courtesy of our Featured Interview with Robert Skrob, copywriter and membership retention specialist.
Click here now to read your November issue of Barefoot Writer — and enjoy!
If you're really serious about launching your writing career — and fast — then I HIGHLY recommend you check out our Barefoot Writer Club. It's for folks like you, interested in making a living writing and getting paid for it, and ready to step up and take control of their lives.
Along with a 12-month subscription to Barefoot Writer Magazine, you also get access to our treasure trove of 98 back issues, each one packed with tools and tips to help you launch your writing career fast.
And if that weren't enough, Club Membership also gets you admission to our Barefoot Writer Private Facebook Group, where your fellow writers actively engage in growing their businesses, sharing advice, and answering the burning questions that might be holding you back.
Plus, there are other Club bonuses, like our value-packed writing opportunity reports, including The $500 Email Secret, Get Paid to Surf the Web, The Secret of the 1-Hour Work Week, and The Lazy Writer's Path to a Six-Figure Income.
Each bonus has been specifically designed to give Club Members the best information possible for getting a successful writer's life up and moving at lightning speed.
I think you're ready to take that step … if so, click here to learn more.

The Professional Writers' Alliance
At last, a professional organization that caters to the needs of direct-response industry writers. Find out how membership can change the course of your career. Learn More »

Published: November 1, 2019