What Do Warren Buffett, Oprah, and Elon Musk Have in Common (Besides Being Billionaires)?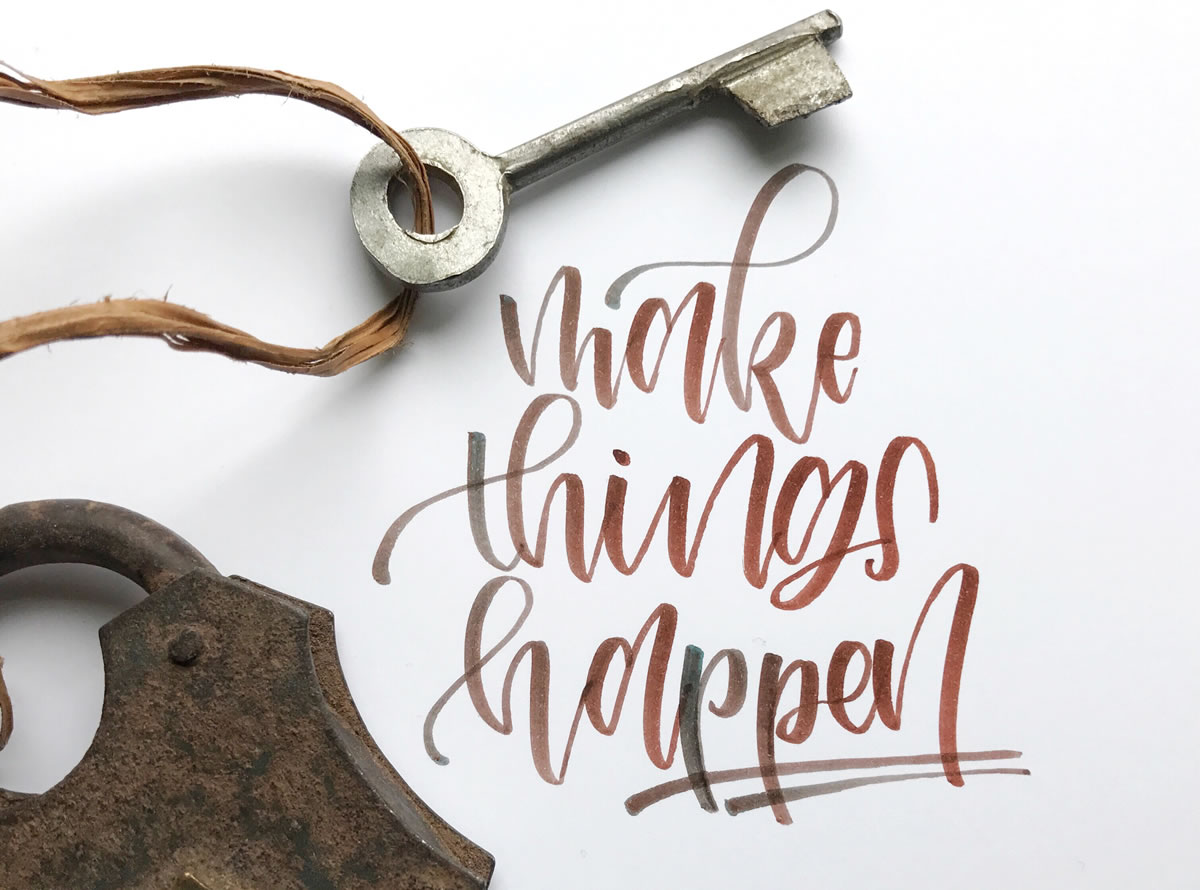 $86.6 billion. That's how much Warren Buffett is worth today. So, when he started his career, he was probably spending every waking minute on the trading floor, right?
Wrong. The billion-dollar man himself was spending most of his time reading. And not just a couple of chapters here and there — but 600 to 1,000 pages every single day. Even now, Buffett says he devotes around 80% of each day to reading.
He's not alone. The likes of Bill Gates, Oprah, Elon Musk, J. K. Rowling, and other uber-successful people are all avid readers.
But they aren't spending their time reading just anything — they're immersed in books that make them better. Better leaders, strategic thinkers, partners — simply better people.
One other big thing they have in common is an affinity to follow through and execute on their ideas. Translation? They get things done.
Gates, Oprah, Musk, and Rowling all have followed a two-step model to success.
And for each of them, it started with a dream — a passion that seemed impossible. But that perception didn't stop them from planting the seed and giving it what it needed to grow.
Gates had a vision of a tool that would allow instant communication and creativity.
Oprah built a billion-dollar media conglomerate reliant on her personal brand.
Musk is pioneering a fantasy — commercializing spaceflight — while leading the auto-revolution of self-driving vehicles.
And Rowling brought a mystical world to life, forever impacting the literary world and popularity of Young Adult fiction. Her first draft of Harry Potter — which would go on to become a 25 billion-dollar entertainment franchise — was penned on the backs of napkins, because she couldn't afford to buy notebook paper.
Look at them now. Living legends and billionaires. Revered in their industries. Rewriting the standards of success.
That could be you, too. The key is stopping oneself from toeing the line between following your true calling and sticking with something safe but less fulfilling.
Your dream lifestyle may feel out of reach to you right now …
But, imagine how different the world would be if people like Bill Gates and Oprah never threw caution to the wind and went for what they wanted.
Don't Stress … You Don't Need to Read 1,000 Pages a Day
It's easier than it sounds, too. You won't even need to mirror Warren Buffett and somehow find the time to knock out thousands of pages a week.
Instead, you'll simply adopt an "ideation and execution" philosophy to all you do.
It's the same approach that Gates, Oprah, Musk, and Rowling used to see their goals through to fruition.
And it's the mindset Jeff Bezos shares, too. Bezos, the world's first centibillionaire to appear on Forbes 400, built Amazon into the e-commerce machine it is today by building a company that invested heavily in Research and Development.
By always innovating how Amazon approached the market, he and his team were able to scale the now-retail giant from a small book-selling operation to the 'kingpin' of a trillion-dollar space.
Bezos prioritizes constant learning on a company level — just like Warren Buffett reads enormous amounts of literature to expand what he knows every single day.
So, how can you apply the same success philosophy these titans use to your dream of writing for a living?
Introducing Step 1: Be Like Bezos
First — you need to pick up a new skill. Just like Bezos, who is constantly innovating how Amazon sells by studying how other markets are reaching consumers, you should be innovating what you can offer professionally. Don't focus on learning just anything. Learn with the aim to become better at something.
Take copywriting, for instance. In many ways, it's an art form. You've got to practice it to get better and better — but copywriters have the potential to make a lot more money than most artists.
It's also an explosively growing industry — where good copy is always in demand.
As of this year, e-commerce as a global industry is worth $3.5 trillion, while direct-response marketing in the U.S. alone produced $9 billion in revenue. Consider the $105 billion advertising industry and the possibilities for tapping into that market stretch on endlessly.
… Translation?
Get good at copywriting and a steady stream of work could turn into a waterfall of big-budget clients. Get great and you won't ever need to go looking for work — the work will find you.
One approach you can take is to diversify your skill set.
Picture a car lot that extends as far as the eye can see. Hundreds of vehicles, all varying makes and models, waiting for someone to get behind the wheel.
These cars represent your opportunities.
From short B2B emails to long-form sales letters, there are countless areas in copywriting for you to specialize in.
You only need to start with one. Get good at it and start making money quickly.
But don't stop there. Keep pushing yourself to upskill. Try out different types of copy. See which ones you like. Because the more needs you can meet for your clients, the more they'll come back to you with new projects.
So, pick a couple of cars to test-drive — and hit the copywriting road.
Introducing Step 2: "Just Do It"
As Nike's ingenious ad campaign immortalized, "Just Do It." This echoes the second step to success and reiterates how icons like Gates and Bezos got to where they are today.
Stop waiting for the "perfect" time to get started on your dream career. That illustrious moment, that point in time where every single puzzle piece falls into place and you just know you should act — it's a myth.
You'll never feel perfectly ready.
And the most successful people to walk among us — the Oprah's and the Bill Gates's of the world — will tell you the same thing. The "father" of Microsoft once said in an interview he only devotes 10% of his mental space to business brainstorming.
Ultra-successful people feel no more ready than the rest of us. But they throw caution to the wind and just do.
The biggest mistake you can make is letting yourself fall into the trap of overthinking it.
Too many of us fantasize about being well-paid writers, but then let that vision fade to dust when we refuse to see it through.
A Secret to Make Sure You Follow Through …
The 80/20 rule, or Pareto principle, is a great measure for holding yourself accountable and making sure you execute on your ideas. The principle, when applied to business, states 80% of your results are going to come from 20% of your effort.
Basically, this means that when prioritizing skill-building, make sure you are spending time doing things that have a high payoff.
Begin by identifying the key 20% of actions that are creating the most results. From there, commit to doing those things as frequently as you can — so you produce the most value and get to the 'finish-line' faster and more efficiently.
Remember, Success Doesn't Mean the Same Thing to Everyone
Elon Musk, a man infamous for his out-of-the-box thinking — leading him to launch billion-dollar brands like PayPal, SpaceX, and Tesla — says the power of mindset is ours to wield:
"I think it is possible for ordinary people to choose to be extraordinary."
This doesn't mean you need to aim to be a billionaire like he is. To you, success might mean the freedom to make your own schedule. Be your own boss. Make enough money on the side to go on that luxury Mediterranean cruise for the holidays and put your kids (and grandkids) through school.
Or it can just mean having the opportunity to wake up every day and write — while getting paid to do it.
Whether success means shooting for the stars and making that nine-figure income or simply the heartwarming knowledge that your job is also what you love to do most, it doesn't really matter.
What's important is that you dare to dream — and act on it. Use the simple two-step "ideation and execution" model the world's most famous visionaries have followed to achieve uncommon success.
Think big. Start small.
Write down what succeeding at the writer's life looks like to you.
Draw up a loose blueprint on how you'll get there. Learn, practice and grow. Follow through. Assess your efforts.
Devote as much energy as can to the right activities so that dream begins materializing in real-time, right before your very eyes.
What are you waiting for? Pick up that pen and paper … and get to it!
Your writer's life awaits.
Do you have any questions about how you can get started as a copywriter? Share with us in the comments.

The AWAI Method™ for Becoming a Skilled, In-Demand Copywriter
The AWAI Method™ combines the most up-to-date strategies, insights, and teaching methods with the tried-and-true copywriting fundamentals so you can take on ANY project — not just sales letters. Learn More »

Published: January 8, 2020