This Is Where Six-Figure "A-list"
Copywriters Hang Out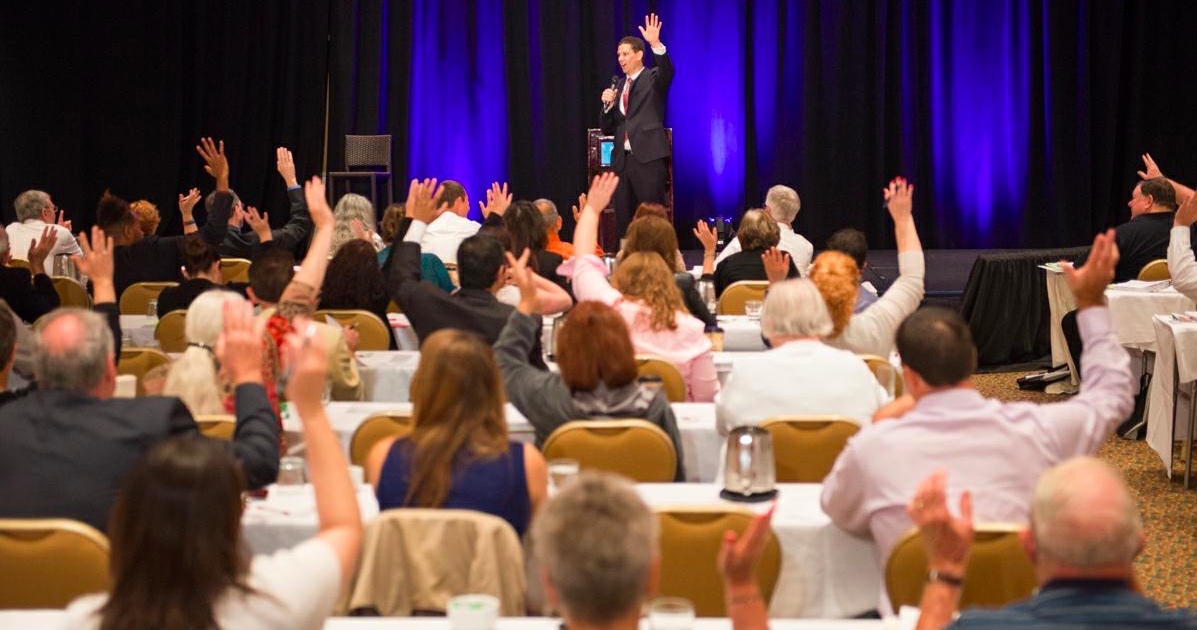 It happens every year for no particular reason.
At least that's how some people have described this annual meeting, which takes place in New York in the middle of December.
Surprisingly, the number of attendees ranges in the thousands.
The truth is, there are three reasons they get together: (1) Have fun, (2) spread joy and (3) raise funds and resources for a charitable cause.
The convention I'm talking about is known as SantaCon, where everyone who attends dresses in up Santa Claus outfits.
Then they take to the streets of Manhattan and Brooklyn, spreading holiday cheer for two whole days.
If you've never heard of SantaCon, don't worry. Many people haven't.
But it turns out that it's just one of many unusual conventions featured in Arthur Drooker's book, Conventional Wisdom.
Arthur is a photographer, award-winning writer, and television producer. His first book, American Ruins, published in 2007, is a collection of photographs he took of historic ruins in the U.S.
He began taking pictures of forgotten U.S. landmarks after he returned from a trip to Cambodia. While there, he had gotten the opportunity to take photos of the ruins of Angkor Wat.
Arthur figured the U.S. surely had abandoned ruins of its own. So in 2005, he began what he refers to as "a two-year odyssey" photographing more than 20 different sites in 15 states.
But something happened along the way. While doing research on historical sites in the U.S., he stumbled upon a website dedicated to actors who like to portray President Abraham Lincoln.
The group was promoting their upcoming convention and Arthur didn't hesitate to contact them. They welcomed him to their group, his camera equipment included.
After noticing the large number of people dressed as Abe Lincoln that showed up, Arthur wondered how many other unusual conventions are there in the U.S.?
Since there are about 1.8 million conventions, conferences, and trade shows held in the U.S., finding the oddballs wasn't an easy task. But Arthur isn't one to give up.
He kept digging and digging, asking questions and getting tips from other convention attendees. Soon, he was able to compile a list of unusual conventions worth checking out.
And that's when his next journey began. The conventions he documented are wide-ranging, and in just a minute, I'll share some of them with you.
But let me tell you about one convention that you won't find listed in his book, yet it's become the premier gathering for copywriters at every level … from newbie to advanced. In fact, it's the place where six-figure "A-list" copywriters like to hang out.
The gathering I'm talking about is AWAI's Annual FastTrack to Copywriting Success Bootcamp and Job Fair. It takes place in Florida every year. And it's here you'll learn the latest persuasive writing techniques, tips, and strategies from top writing and marketing experts.
This year's panel of speakers includes digital content marketing strategist, Russ Henneberry. Russ has put together content campaigns for brands such as SalesForce, CrazyEgg, Network Solutions, and DigitalMarketer. He's going to share with you the proven strategies he's used to help these companies make millions in sales.
You'll also hear from Terri Trespicio, award-winning writer, seasoned editor, published poet, and stand-up comic. She was featured on a TEDx speech that garnered more than 5 million views. Her specialty is teaching writers how to make their writing stand out from the crowd.
Jason Fladlien, known as the $100 million webinar man is going to share how to create webinars that bring in six, seven … up to nine-figure incomes for your client.
Those are just a few of the headliners participating in this year's Bootcamp. You can find the entire list here.
Now, if you've heard about Bootcamp over the past several years and haven't pulled the trigger yet on attending, you are missing out not just on the opportunity to learn from the experts but also to make lasting connections.
And you also miss out on the chance to get hired by one of the 40+ marketers that come every year to hire copywriters.
Turning in one Spec Assignment from one of these marketers could put you on the path to a six-figure income. Take Jon Stoltzfus, as an example of what's possible.
When Jon attended his first-ever Bootcamp, he made a point to meet the marketers and submit a Spec Assignment. That led to him being hired to write a sales letter. And that sales letter led to more paid projects.
All of those paid projects have put his income in the high six-figure range. And now he's reached the level of Copy Chief, and not only hires writers but trains them to write compelling copy.
Jon's is just one story of success achieved from attending Bootcamp. The truth is there are hundreds more. (You can see some of their stories here.) You might be AWAI's next Bootcamp success story.
Just like Arthur stumbled onto unusual conventions, when you show up at Bootcamp, you might just come across clients who want to hire you.
Oddball conventions you never knew existed … Arthur immersed himself in a variety of unusual conventions, getting to know members and photographing their gatherings. Some of the conventions he attended include: Ventriloquists, Fetishists, Re-enactors, Clowns, Furries, Mermaids, Lincolns, and Taxidermists.

The AWAI Method™ for Becoming a Skilled, In-Demand Copywriter
The AWAI Method™ combines the most up-to-date strategies, insights, and teaching methods with the tried-and-true copywriting fundamentals so you can take on ANY project — not just sales letters. Learn More »

Published: December 30, 2019