May Issue: The Writing Culture
You're Now Part of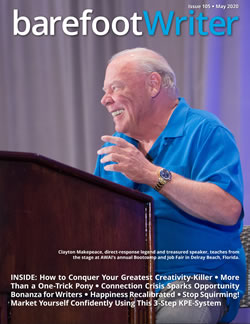 Clayton Makepeace had a big reputation …
To clients, he was the man who quadrupled sales figures armed solely with his copy.
To new writers, he was the guy who made dreams happen. If you were new to the paid writing world and studied with him for any length of time, your odds of hitting six-figure paydays increased dramatically.
The first time I spoke to Clayton, I felt nervous and inadequate. He was big and important. I was a hope-filled rookie.
But Clayton saw no divide between himself and other writers, and he treated me the same way.
He spoke to others as equals. As if he and every other writer were bringing worthy contributions to the table.
Know what that does for your confidence?
Well, it's better than gas on a fire.
That was Clayton's real superpower. He sat on top of one of the biggest piles of copywriter-created wealth ever seen in this world, but if you'd asked him point-blank how that made him different from you or me, you know what he'd say?
It doesn't.
He'd see you as his equal, a writer with the same ambitions he lived off of for more than four decades.
And he'd tell you, probably in colorful language, that yes, you've got this.
Clayton embodied the culture of Barefoot Writer and AWAI as a whole. A place where you are welcomed and celebrated for your goals, your drive, and your dreams.
So in this May issue, we celebrate the life of Clayton Makepeace and his contribution to the world of paid writing, including a specific writing opportunity "bonanza" where Clayton led the pack, a path for conquering your greatest creativity-killer, and why it's a good idea to be more than a "one-trick pony" when it comes to your writing.
Click here now to read your May issue of Barefoot Writer.
Pandemic got you down? See page 30 for this month's essay question. Write down your thoughts, and you could win $100 and get published on our website!
If you're serious about getting paid to write for a living, consider becoming a member of our Barefoot Writer Club. Along with your 12-month Barefoot Writer Magazine subscription, you'll get …
Admittance to the Barefoot Writer Private Facebook Group where your fellow writers actively engage in growing their businesses, sharing advice, and answering the burning questions that might be holding you back.
Unlimited access to all back issues (over 100 issues designed to help you write better, faster, and for more profit!).
And, of course, a whole lot more …
Membership into the Barefoot Writer Club is literally the quickest